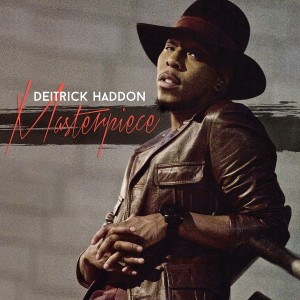 Last week, Deitrick Haddon spoke with Bob Marovich of the Journal of Gospel Music about his new album, Masterpiece, which Entertainment One will release this Friday, November 6.
JGM: Masterpiece, the album, is being described as sort of a musical maturation on your part. Is that a fair assumption?
DH: Absolutely. It definitely reflects where I am in my life right now. That's how I create records: I'm inspired by my life. What I have experienced in my life tends to show up in my music.
JGM: On Preachers of LA and in performance, you come across as very real, very direct. Were you always that way, even as a child?
DH: Oh yes, I've always been this way. I'm a PK—a preacher's kid—and we were allowed to express ourselves. We had that kind of freedom in our home. My home was very religious and very spiritual, but there were some things that my brothers and sisters and I questioned. Different interpretations of scriptures that we may not have agreed on, or didn't understand, we asked our parents to break them down. My mom and dad, they didn't see that as a threat, but as an opportunity to give us insight.
JGM: You have always pulled from a variety of music genres for your work – who were your music inspirations growing up?
DH: I have respect for the whole Motown era. And a lot of the soul artists – Al Green, Sam Cooke, Michael Jackson, Rance Allen is one of the greatest male vocalists. I'm from Detroit, and when I started out, I just wanted to represent Detroit like they were doing in a big way.
I went to the same high school as the Winans, the Clark Sisters, Commissioned, Fred Hammond, Witness—Mumford High School. A lot of great gospel artists came out of Mumford.
JGM: Was there a music teacher or director at Mumford who inspired everyone, or was it just a coincidence?
DH: I think it was a little bit of both. We had a singing teacher. Mrs. Thompson—back in the day she was Ms. Jackson—she was amazing. She taught almost all of the gospel artists.
JGM: "Be Like Jesus" starts with someone telling you that you shouldn't be "cutting up" on television. Is that inspired by a true story, and does that kind of exchange happen to you a lot?
DH: Oh absolutely! That is a true story. But we all need to be real, to be true to ourselves. To be caring for people, to love people through their problems, through their weaknesses. That's what Jesus showed us. Love people where they are.
JGM: Do you still hear from people who criticize your music as not being churchy enough or gospel enough?
DH: Oh, no way! I've been around for a minute now. People pretty much know what I do! [laughs] I think there are no surprises from the community now, and they love me for who I am. I'm sure that somebody, somewhere, says, "I like that old gospel music," and that's okay.
JGM: On "Perfect Storm" and other tracks, you refer to storms and valleys and pitfalls and imperfections. What has been the toughest storm for you to overcome over the past decade or so?
DH: I've had many storms. Where do I begin? I believe that when God brings you a storm, it's not to blow things out of order but to blow things in order, because everything that God does, He does well. The Bible says, "All things work together for the good of them that love the Lord." He manages to make everything work out smooth. I think we all go through many storms—big storms, small storms—but you should come out better than you were, because you've gained wisdom during the storm.
JGM: Was there ever a time throughout all of this when you said to God, "That's it, I'm finished, I'm done, I want to do something else?"
DH: I've had those moments all my life. I preached my first sermon when I was eleven. I became the minister of music of my church choir. I was responsible for 100 voices. Adults. And I was thirteen years old. So when you live with church people, and you are thrust in the spotlight like that, you will have many days when you want to say, "I quit!"
I remember kicking my mother and father's door in—they were in the bed—and they said, "What in the world is going on?" And I said, "I quit! I'm not going back to your church. I'm not going to be your minister of music. I will not go to church again. I am done!" I remember many days like that!
JGM: How was it working with your mother on Masterpiece ("Play Time is Over")?
DH: I happened to be in Detroit and my mother came by to listen to some music. I wanted my mother and father to hear my music, and while I was in there, I just had this great idea to have my mother go into the booth and create this moment. I wanted it to feel like it was the beginning, when I was young. My purpose was to let people know that there is a beginning for all of us. You, I, all of us, had a time when we had no worries, no troubles. We had no pressures. We just lived. I wanted to capture that moment on the record.
The whole theme of the record is about a "masterpiece:" that when you look back on your journey, from the beginning to the end, you will see a masterpiece. The highs and lows, the ups and downs, the twists and turns, the joys and pains, all of this is God working a beautiful masterpiece in your life. And you won't understand it until you are outside of it, and you can look back and say, "Man, God was doing something there! I didn't understand it, but He was working something out there. Now look where I am!"
That's what I'm trying to say in Masterpiece. Not that I think it's the greatest album that everybody will ever hear—even though I do [laughs]—but I am saying that all of our lives are a work of art. We are all God's masterpieces.
JGM: Do you think you will record with the League of Xtraordinary Worshipers again?
DH: Absolutely. I'm going to try to get them in the studio for a couple of days during the holiday season and see what we can come up with.
JGM: As someone who has pulled gospel music along in creative directions, where do you see gospel music going over the next five years?
DH: That requires a long response! But I'll tell you this: gospel's going down a dangerous road if we don't make significant changes, if we want this gospel to be relevant. We'll almost become extinct if we don't make significant changes. We can continue to make gospel songs, but do we want to bless? Do we want to be relevant to young people rather than to what's happening in the culture? If we want gospel music to reach [people] now, we have to make significant changes.
JGM: What do you want people to know about Deitrick Haddon as you are today, in 2015?
DH: I'm not that important. I really want them to enjoy the music. My work is more important than me. What I do in my life, how I raise my kids, that's more important. You don't need to know much about me. You need to know that I love God, and that my work is full of passion about what I believe.