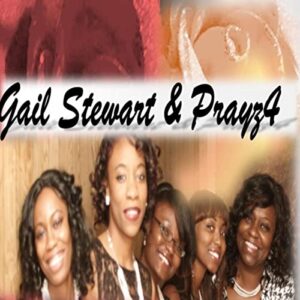 Gail Stewart & Prayz4
Self-titled
Independent (release date: July 12, 2017)
By Robert M. Marovich
What is immediately evident about the self-titled CD by the Texas-based family gospel group Gail Stewart & Prayz4 is its emphasis on modernizing traditional hymns and gospels.
For example, the group gives the nineteenth-century hymn "I Need Thee" a mid-tempo R&B treatment, complete with bongos and snarling guitar, while Gail's breathy soprano directs the rest of the singers toward a bluesy vamp. "Where He Leads Me" bathes the basic premise of the original hymn in a cornucopia of sounds, melodies, and new lyrics sufficient to create an entirely new composition.
"Surrender" is a ballad about willing discipleship that centers on a female duet in two-part harmony, though it could be Stewart double-tracked. Regardless, the lyrics evoke the message of the beloved hymn, "I Surrender All." "Real!" a modernization of Kenneth Morris' "Yes God is Real," stays fairly faithful to the original.
The album's high point is not one of the rearranged hymns but "Hallelujah," a worship piece featuring Zacardi Cortez. As is typically the case with the hard-shouting Cortez, the song starts gently but builds in intensity to a power-packed finish.
The CD jacket leaves much to be desired—stretched photo images and no track listing, list of contributors, or album notes.
Taking home a Rhythm of Gospel Awards statuette for Female Quartet/Mixed Group of the Year this past September, Gail Stewart & Prayz4 garnered accolades for showcasing solidly at the awards festivities. As such, I suspect their next project will be much stronger.
Three of Five Stars
Picks: "Hallelujah"
Written by : Bob Marovich
Bob Marovich is a gospel music historian, author, and radio host. Founder of Journal of Gospel Music blog (formally The Black Gospel Blog) and producer of the Gospel Memories Radio Show.