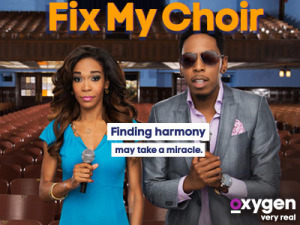 "Fix My Choir"
With Deitrick Haddon and Michelle Williams
Premiere: Wednesday, November 5, 2014 – 10 p.m. ET/PT
Oxygen
www.oxygen.com
By Bob Marovich
At last: a reality television program suitable for those of us who avoid reality television.
"Fix My Choir" is about struggling church and community choirs who receive mentoring from the program's stars, gospel singers Deitrick Haddon and Michelle Williams (formerly of Destiny's Child).  Each episode features Deitrick and Michelle responding to one particular choir's SOS call.
On the premiere episode, which airs this evening, Deitrick and Michelle travel to New Orleans to rescue Josh Kagler and HPC (Harmonistic Praise Crusade), a choir that rehearses out of the petite Prayer Tower COGIC church. Since winning the Verizon How Sweet the Sound competition, the choir's professionalism has been spoiled by big "I"s and little "U"s. A musically valuable lead singer has been put out of the choir, and it is evident in the opening scenes that the "he said / she said" is eating the group alive.
The premise is simple: Deitrick and Michelle have five days to get the choir back into performance-ready mode.
As it turns out, the duo spends the majority of the five days functioning as individual and group counselors, patching up hurt feelings and helping Josh rekindle his leadership skills.
Are there tears? Yes. Are there outbursts of animosity? Sure. Fist fights? Almost. Do some of the young adults temporarily act like children? Of course—this is what makes reality television so appealing to its viewership. Unlike some other unscripted dramas, however, "Fix My Choir" is not focused on the questionable decision making of those with more money than sense, nor does it wallow in the delusional behavior of the economically and spiritually impoverished. The choir members are regular people like you and me who, in the case of HPC, have been believing their own publicity and consequently lost the unity that took them to the top of the choir world.
The most poignant moment in the premiere is when Deitrick and Michelle travel with Josh back to his hurricane-ravaged neighborhood and home. He hadn't been back to visit the area since being rescued from it. His story of survival is moving and worth its own television program.
Hopefully the balance will change in future episodes, but in this first chapter, the uber-extroverted Deitrick does most of the counseling and instructing, while Michelle functions in a secondary role, saying little on screen. Despite this, she is the one who bears the brunt of one choir member's salty insults.
I also hope future episodes show Deitrick and Michelle providing more musical and performance direction to the choirs. What artistic advice they offer HPC on camera is valuable, but their counsel in music and presentation is extremely limited.  It is refreshing, nonetheless, to see a program where the goal is to succeed in spite of trials versus the usual reality TV fare about people behaving badly because they can afford to.
Written by : Bob Marovich
Bob Marovich is a gospel music historian, author, and radio host. Founder of Journal of Gospel Music blog (formally The Black Gospel Blog) and producer of the Gospel Memories Radio Show.