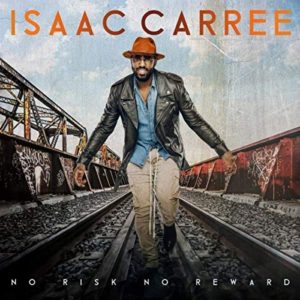 Isaac Carree
No Risk No Reward
Shanachie Entertainment Group (release date: March 20, 2020)
www.shanachie.com
By Bob Marovich
Isaac Carree has bestowed upon his first solo album in seven years a very accurate title. And in so doing, he has scored his best solo recording to date.
No Risk No Reward finds Carree, former member of the genre-bending Men of Standard, pushing the boundaries of what constitutes a gospel album.
In fact, the CD is two albums in one. The first part comprises an extended quiet storm expression of love to Carree's earthly love, wife Dietra. As with Kim Burrell's 2011 The Love Album and Fred Hammond's 2012 Love, God, and Romance, Carree's love songs—the majority written by one of the album's producers Elvis Williams (aka Blac Elvis)—are infused with cozy Christian spirituality.
In "Love Affair," Carree defines the ultimate love triangle as "you, God, and me." He admits dodging a relationship bullet in "Amen," which features Mr. TalkBox. "It was supposed to be like heaven," he sings, "but I put you through hell." On the countrified ballad, "Woman First,"  Carree fronts Tim McGraw's band to acknowledge the many ways his wife makes life wonderful. The current single, "HER," is a dedication to Deitra specifically and women generally. Loving her, Carree sings to God, is "thanking you."
Carree explores spiritual love even further by covering Commissioned's 1989 hit, "Ordinary Just Won't Do." A dream BGV team of Eric Dawkins, Gene Moore, Zacardi Cortez, and Jason Nelson imbue the song with its Commissioned-style harmony. The gospel-bluesy "What Kind of Man" is a tribute to another woman in Carree's life—his mother, Pastor Nancy Carree Wilson. The always-consistent Lisa Knowles and the Brown Singers offer up the gutsy lead vocals.
From there, the album switches gears. The melodic "I Don't Wanna Go," Deon Kipping's song about a reluctant disciple who has a change of heart, has radio hit written all over it, as does "I Need You," which features production and songwriting work from Gerald and Tammi Haddon.
Carree begins "Worthy," featuring Todd Galberth, as a worship hymn but transitions to insistent vocalizing and finally, a full-on shout. It carries the theme of worthiness, referenced in "Good Lord" and "I Don't Wanna Go," in its lyric hook: "They thought I was worthless, but you thought I was worth it." "Legend" declares with brute honesty that the higher you go, the more people try to knock you down to size.
The album may change in mood, lyric, and focus, but Carree's vocals are strong throughout. By the conclusion, any doubts about No Risk No Reward's initial love focus disappear in grateful appreciation for a stack of quality songs. The album rewards Isaac Carree, Deitra Carree, and listeners.
Five of Five Stars
Picks: "I Don't Wanna Go," "Legend," "I Need You"
Written by : Bob Marovich
Bob Marovich is a gospel music historian, author, and radio host. Founder of Journal of Gospel Music blog (formally The Black Gospel Blog) and producer of the Gospel Memories Radio Show.