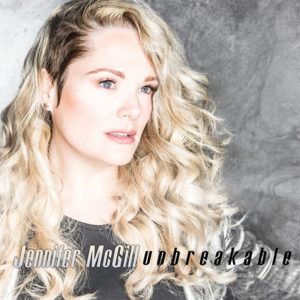 Jennifer McGill
Unbreakable
Lifetime Impact Music (release date: August 11, 2017)
www.jennifermcgill.com
By Bob Marovich
If the original Mickey Mouse Club gave us Annette Funicello (okay, and Jimmy Dodd), the All-New Mickey Mouse Club produced a passing parade of pop singers. Justin Timberlake, Christina Aguilera, Britney Spears, and Ryan Gosling, are just a few.
Jennifer McGill is another Mouseketeer alumna who has broken out on her own. But rather than try to top the pop charts, McGill set her sights as high as Heaven: she is a worship leader and Christian singer. She released her debut solo album, Unbreakable, last month.
Unbreakable feels like two albums in one. The first is a series of EDM-fueled anthems of sisterly empowerment delivered from the perspective of experience. McGill dispenses hard-earned wisdom to fortify the next wave of talented but insecure hopefuls. "What I Know Now" and "Look in the Mirror" are diary-like directives to herself and, by extension, her audience, to discover inner fortitude because we have more ability than we realize. Courage is the missing element. Find that and you can conquer self-doubt.
The second part of the album is explicitly Christian. As the EDM fades, the mature-voiced McGill gets acoustic and even more transparent, sharing that her strength and courage comes from trusting in the Lord. "Abandoned" and "Stronger than Anything" supply the album's most confessional (and most compelling) moments.
You have no doubt heard the church adage: draw them in with the music and keep them in with the sermon message. On Unbreakable, McGill draws her listeners in through the pop flavoring they enjoyed during her Disney Channel days.  Having filled the seats, she delivers the strong medicine through Christian balladry.
But Unbreakable's two parts are never really broken; they connect through an arsenal of battle imagery. McGill dons armor to battle the forces that threaten to demean and disempower (the title track), and leans on God whenever the storms of life weaken it ("Armor"). For the few who still cannot comprehend the shift in tone, McGill offers an impressive cover of Tasha Cobbs Leonard's "Break Every Chain."
The album benefits from production by Grammy Award winner Jeff Savage, Michael Whitaker, and McGill's husband Jeff Bohannon; and mixing by multiple Grammy Award winner Paul Salveson.
No matter the message, no matter the part, McGill's ballads are her sweet spot. They give her space to flex her alto in throes of passionate worship. Again, "Abandoned" and "Stronger than Anything" are the two songs that best showcase her singing. A complete album of Jennifer McGill working within this style would be beautiful but, as a worship leader, she knows that you first have to fill the seats.
Four of Five Stars
Picks: "Armor," "Abandoned."
Written by : Bob Marovich
Bob Marovich is a gospel music historian, author, and radio host. Founder of Journal of Gospel Music blog (formally The Black Gospel Blog) and producer of the Gospel Memories Radio Show.