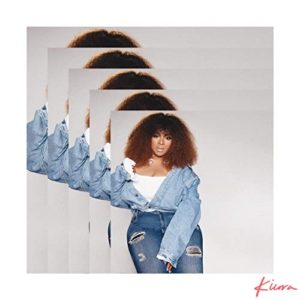 Kierra Sheard
Kierra
Karew Records & Entertainment / Provident Label Group / RCA Inspiration
(release date: April 17, 2020)
www.rcainspiration.com
By Bob Marovich
In a scene from the LIFETIME biopic The Clark Sisters: First Ladies of Gospel, Dr. Mattie Moss Clark stands before top officials of the Church of God in Christ who question her participation in a "worldly" musical presentation. In response, Clark challenges their inflexibility and intolerance.
Pushing the musical envelope is a family tradition, and Kierra Sheard, Dr. Clark's granddaughter, is the latest in the Clark-Moss dynasty to challenge convention. But it has taken an emotional toll and, on her self-titled album for RCA Inspiration, she channels her grandmother by speaking truth to power.
Although from two different generations, both women struggled with the judgmental gaze of church folk who put them on such a high pedestal that they couldn't possibly live up to expectations. Kierra sings about this conundrum on "Don't Judge Me," the album's single and collaboration with R&B star Missy Elliott; and "Human," a passionate ballad passionately rendered. Both songs directly but politely address those finding fault. The message is clear, and biblical: "He that is without sin among you, let him first cast a stone at her."
Musically, the album showcases two sides of Kierra Sheard: the studio side and the live side. The studio selections possess a definite crossover sound, as Sheard demonstrates her multi-genre influence amidst a toolkit of electronic techniques, such as on "Better," which features samples amidst a brief shout out to the Clark Sisters' move "from the church to the club."
But it's the live selections, recorded in her hometown of Detroit, that give listeners a glimpse of Kierra the gospel singer. It showcases an emotionally freer Kierra, and an emotionally freer team of musicians. Absent studio trickery, Sheard can squall like her mother on "Always Win," conjure the atmospheric work of a Jonathan McReynolds or Todd Dulaney on the P&W power ballad "Follow" (Dulaney is a featured vocalist) and stretch out the Jekalyn Carr-esque "It Keeps Happening" with a short explanatory testimonial about not wanting to "feel guilty about this God thing." "Big Big Big" is a song-length antiphonal riff rendered breathlessly during the live program. "We just made that up, y'all" Sheard says, and it shows.
Given the recent popularity of the LIFETIME biopic, in which Kierra plays her mother, Karen Clark Sheard, the album release is opportune. To wit, Sheard and guest vocalist Le'Andria Johnson cover the Clark Sisters' "My Redeemer," and "I Choose You," with its '70s soul harmonies and confident vibe, sounds like an unreleased Clark Sisters track.
In my opinion, Kierra is Sheard's finest solo album since 2009's Kiki's Mixtape because, as she sings on "Don't Judge Me:" "I'm doing me and I love it." It's the ultimate expression of freedom.
Four of Five Stars
Picks: "Don't Judge Me," "My Redeemer"
Written by : Bob Marovich
Bob Marovich is a gospel music historian, author, and radio host. Founder of Journal of Gospel Music blog (formally The Black Gospel Blog) and producer of the Gospel Memories Radio Show.