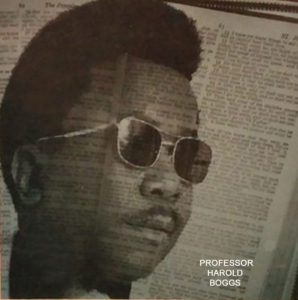 "Lord, Give Me Strength" – The Prof. Harold Boggs Story
By Opal Louis Nations
During the dark ages of slavery, those African Americans who escaped bondage and headed north to more liberal, free states traveled "The Underground Railroad," led by those who risked their lives in the name of freedom. Escapees from Southern tobacco plantations, cotton and rice plantations and farms made their way up through Richmond, Baltimore and Philadelphia. Others, taking the route that crossed Lake Erie into Windsor, Ontario, journeyed through Louisville, Cincinnati, Columbus, Cleveland or Detroit. This route also took escapees to safe houses in Seville, Medina, Port Clinton and Sandusky in Ohio.
Our story centers around the Port Clinton, Ottawa County area. Harold Boggs was born in Port Clinton on June 18, 1928, to Willie and Rosa Boggs. He was one of five siblings, brothers Willie Jr. and Sherman plus sisters Alma and Alberta. Rosa, a domestic worker and devout Christian, was born in Junction City, Kentucky, on December 10, 1986. She died at the grand old age of a hundred on February 10, 2000. She moved to Port Clinton in 1920.
During her lifetime, Rosa founded the Gypsum Tabernacle Church in 1928 and held four offices connected with the church, plus serving as Sunday school teacher and superintendent. The small one-room Gypsum Tabernacle was a one-time schoolhouse on Lockwood Road.
Harold suffered from an irreversible form of glaucoma. Even while he was still an infant, people noticed that Harold had a special gift for music. He could pick up songs by ear. The Boggs household had an old pump organ around which the family used to sing church songs in the long, cold evenings. By age four, Harold was able to play the traditional folk tune "The Old Biffin Boff," the melody which Thomas A. Dorsey transformed into "The Old Ship of Zion" in 1950.
With his sight deteriorating rapidly, Harold made his first public appearance as a stand-up gospel singer at The Second Baptist Church in Sandusky in 1939. The congregation was spellbound. Rosa then knew that her son had a very special gift and packed him off to The Gunnell School of Music where he studied under the guidance of a Mrs. Decare. Because of his sight problem, Harold needed special tutoring. Mrs. Decare took care of this by giving Harold extra tutorials at her home in the evenings. A Mrs. Connie Babcock also gave him additional music lessons.
Legend has it that while Harold was still in his teens, he was asked to open for Mahalia Jackson at a concert in Toledo. One of Mahalia's booking agents, Lillian Cumber of Herald Attractions in Hollywood, caught Harold's act and was so impressed that she wanted to send him to Herman Lubinsky of Savoy Records in Newark to record, with glowing promises of making Harold a star in the Los Angeles area. Lillian tried in vain to tear him away from his community of friends. Harold chose not to turn his back on the people that had for so long supported him.
By 1943, Harold was rendered completely blind. Devastated, his mother Rosa took Harold around to all the eye specialists, but Harold required expensive exploratory surgery, and money could not be found to cover the treatment. Harold, an even-tempered, unassuming lad, soon learned to live with his affliction and resumed his study of music. Rosa, still working as a domestic, often took Harold with her to help out with the dusting, cleaning, dish washing and bed-making.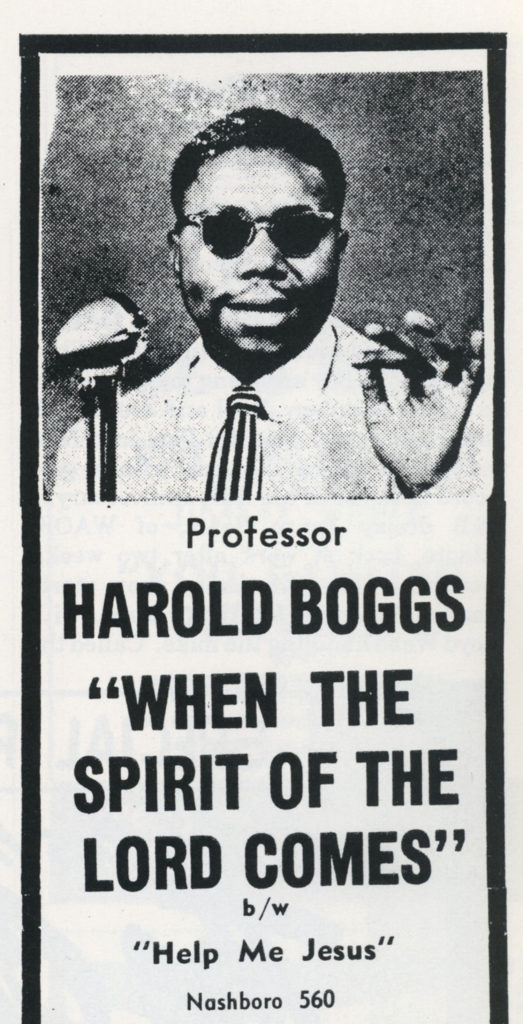 One weekend Harold officiated at The Gypsum Tabernacle as music arranger and conductor of the choir. The principal lead singer with the choir was the great Lula Reed with whom Harold used to sing duet. Lula Reed was born Lula Marietta McClelland on March 21, 1926 in Port Clinton two years before the founding of the Gypsum Tabernacle. Like Harold, Lula came from a deeply religious Baptist background. Deacon Warner Buxton remembers Lula leading the choir on Nettie Dudley-Washington's song "I bowed down on my knees and I cried holy." Buxton also remembers that Harold and Lula often sang songs that Harold later took to King Records and used on his first solo recording sessions.
In 1947 Harold formed his first Harold Boggs Gospel Singers out of members of his choir. The Harold Boggs Gospel Singers traveled by bus through Ohio, Indiana, and Michigan to give concerts at church venues. Sometimes the little band of singers rehearsed on the bus. This led to joyous singing and shouting, forcing the driver to pull off to the side of the road. Having learned typing skills, Harold wrote lyrics to songs for his singers to try out.
Long-time friend Warner Buxton, who had sung in Harold's choir, took upon himself the task of being Harold's constant companion. Warner took care of the day-to-day business of chauffeuring, finding agreeable places to eat, hotels and business arrangements. "We traveled around in many different automobiles," says Warner. "First we rode in a Caddy, then a Chevy van, followed by a Ford van, Dodge and finally a Buick sedan." Many times the gospel singers followed the route of the Underground Railroad.
As legend has it, Lula Reed auditioned in Toledo for the spot of band singer in Sonny Thompson's band, which seems most unlikely, given the circumstance. Yet, at the age of twenty-four, Lula was drawn by the successful sepia stars who had chosen "the devil's path." Artists such as Ruth Brown and Little Esther were breaking into the race charts, not that Lula sounded anything like them. Lula sang more in the Dolly Cooper vein, but without the sass.
Although encouraged to sing by those closest to her, this did not include the music of the street. More likely she was discovered singing gospel by one of Syd Nathan's talent scouts and taken to Cincinnati-based King Records, where she was placed under producer / songwriter / arranger Henry Glover's supervision. Under Glover's influence she was persuaded to record two R&B songs in New York. One of these included "I'll drown in my own tears" along with "Let's call it a day." On the former, Lula moans in her signature childlike, moody style, a trait she is fondly remembered for. Both songs, supported by The Sonny Thompson Orchestra, charted and her secular future looked promising. Glover got full credit for writing the songs.
Glover's fortunes increased when in February 1956 Ray Charles took "Drown in my own tears" to the top of the Juke Box charts. Although Lula saw a path to commercial success, she was extremely ill at ease with her family's discontent. But she was drawn into a romantic relationship with Sonny Thompson, and it was partially for his sake she soldiered on.
On June 30, 1952, Lula recorded her second secular session with the Sonny Thompson Orchestra, this time in Cincinnati. A second single with Glover-composed songs emerged. This second effort did not sell so well and Lula grew unhappy about diving into "the devil's music," wanting King to have the two releases deleted from the King catalog. However, King did not go along with her wishes and kept the songs.
Rev. Harold Boggs, Lula's former coach, was offered a year's contract with King Records. On August 18, 1952, Harold recorded two singles in the King Studios with Harold on solo vocal and piano and Warner Buxton at the organ. Warner Buxton, a former Port Clinton native, was born August 7, 1917, in Clark County, Mississippi. At the Gypsum Tabernacle, he wound up as senior deacon. Harold's first two promising singles releases sold reasonably well.
Seven weeks later, on October 7, Lula Reed recorded her third session with The Sonny Thompson Orchestra under Henry Glover's supervision. She had traveled to Cincinnati with Harold, and this time she was intent on singing gospel songs, which happily worked out and to this listener turned out to be her finest studio date. Supported as ever by Sonny Thompson (and this time a trio) plus the beautiful Harmonaires Male Quartet who formerly had backed The Georgia Peach (Clara Hudmon) on her 1946 recordings.
The results were the uplifting Sonny Thompson-penned chart, "My mother's prayer" undersided with "Heavenly road." Here we have Lula at her best. She moans and caresses the lyrics to "My mother's prayer" with a finesse never bettered during the Golden Age of Gospel. However, the agreement was to record two secular songs with Sonny Thompson at King the very next day. One single emerged from the date.
On May 22, 1953, Harold recorded his second and last King session. This time drums were added into the mix with both Harold and Buxton on piano and organ. The two singles failed to chart and King opted not to renew the duet's contract.  A date was set for a further Reed-Thompson R&B recording session on July 23, 1953, but things did not go well. Lula's heart just was not in the music.
In 1954 Lula Reed and Sonny Thompson were finally married. No doubt one agreed-upon provision was to set aside time to record yet one more gospel session at the King Studios. This came together with Henry Glover's consent for February 8 and, to add icing to the cake, the Swallows vocal group was hired on for vocal group support. Two singles, both gems, came out of this glorious time. Outstanding tunes included Francis Drake Ballard's ethereal "A quiet time with Jesus" and Reichner & Jaffe's "Just whisper." It seems almost a sin for King not to have issued a Lula Reed spiritual album over the ensuing years. Sadly, Lula Reed would never record commercial gospel music again.
In 1955, just before signing with Nashboro Records in Nashville, Harold formed the first Boggs Specials. Members included Warner Buxton, Adolf Sterling, David and Evelyn Smith. The group recorded three moderate-selling singles over a period of ten months. A November 1956 Billboard Magazine announced a Fifteenth Anniversary Homecoming weekend celebration at The Gypsum Tabernacle. Along with the Boggs Specials, the Gospelaires of Dayton and Madam L. Raibon of Toledo would offer their singing talents at the festivities.
In early 1957 Harold entered into an eighteen-month singing spree with Charlie Duncan, described in flyers as "a little guy with a big voice." Harold and Charlie traveled everywhere singing the gospel and causing quite a sensation among spiritual folk. In April 1958, Harold formed a second set of Boggs Specials. All members were hand-picked and had exceptional voices. He both trained and wrote material for his new group. Principal members in and out of this group were Willie Horton, Bobby Hardin, Rev. Johnny Brown, Freddie Buhl, Charles Spencer, Billy Bennett, Ralph Clay Darnell Woods, Michael Smith and Warner Buxton. This group recorded three more singles, including the always popular "Lord give me strength."
Harold had changed his ensemble sound from that of a mixed blend to a predominantly strident, muscular singing outfit similar to the Bradford Specials. The Boggs Specials held together for over two decades. Legend has it that the Boggs Specials sang so much "with the anointing" that the church ladies fell out and threw their hats and purses at the stage. Those who were taken by the spirit had to be carried out on stretchers by attendants. The group always had to protect Harold from the ladies.
It was quite common during the Fifties for R&B artists to steal gospel songs and to alter words and music a tad to create commercially viable secular product. Ray Charles and Hank Ballard were major exponents of this. Prof. Harold Boggs was one of the few who turned the tables around by covering Ray Charles' February 1958 studio arrangement of Sy Oliver's "Yes Indeed." Boggs retitled the song to "When it hit you." He recorded his version seven months after Ray Charles' original. It was issued in 1959. The Boggs' cover sounds in every way as dynamic as the Charles arrangement and should have drawn more notice than it did.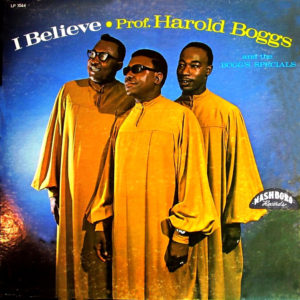 The Boggs Specials traveled extensively nine months out of each year, singing in churches, schools, and auditoriums from Ohio down to Florida. As the young men left the group to raise families, they were swiftly replaced by new recruits. There was always a varying number of members in the group. The Boggs Specials had nine singles released over a period of six years on Nashboro Records. Their recordings were given radio exposure by Gene Nobles, John R., and Bill "Hoss"Allen at Nashville's megawatt WLAC facility (sponsored by Ernie's Record Mart in Nashville and Randy's Record Shop in Gallatin, Texas) who pushed their releases.
Shannon Williams, who produced Harold's recordings at Nashboro, says that Harold impressed him as being reserved and not given to conversation. He was always personable, friendly, and easy to work with.
Harold toured with Prof. J. Earl Hines and enjoyed extensive broadcasting on radio and T.V., guesting on WLQR 1470 AM Sandusky and WGGN, Castalia. He also worked with Rev. Shelby Gilliam and Bro Rusty York at the CBM T.V. studios. Harold was also one of the first black gospel artists to appear on The Mary Holt Show ("The angel of the airwaves") on Channel 5 out of Cleveland and the first African-American to host his own radio program over WRWR in Port Clinton. Always afraid of flying, Harold turned down an opportunity to appear in London, or for that matter to travel anywhere abroad.
Apart from speaking at prayer breakfasts, Harold sponsored church programs (such as giving out food baskets to the poor) alongside Rev. Sammie Yarbrough. He also helped establish the Port Clinton chapter of the NAACP, raised funds for charities, and was rewarded by being presented with the Keys to the City and honored by having a day named after him.
Some time during the fall of 1963, The Boggs Specials, made up of Prof. Harold Boggs, Warner Buxton and quite possibly vocalist Billy Bennett from Bluefield, West Virginia, recorded "That's where it's at" as the second Song Bird gospel label release out of Don Robey's Peacock stable in Houston. The authorship on the label was ascribed to Harold Boggs. During December that same year, The Sims Twins, Bobbie and Kenny, recorded "That's where it's at" at a slightly more upbeat tempo for Sam Cooke and J.W. Alexander's Sar Record imprint in Hollywood. This time the authorship was ascribed to Cooke and Alexander. Only slight changes had been made to the lyrics but the song is undeniably the same. Who do we believe wrote the song? It was quite a common practice in those days to take gospel tunes and to re-shape them into secular, commercial releases. Both versions, in addition to Sam Cooke's own, later, secular waxing, sold well but none conquered the upper regions of the charts. Boggs' version of "That's where it's at" stayed a staple on his live concert programs and in 1970 he was asked to record it again.
Nashboro Records producer Shannon Williams told me that Eric Clapton recorded an exact copy of "Lord, give me strength," retitled "Give me strength" as the B-side of "I shot the sheriff" in 1974 and claimed to have written the song. Boggs found out and told Shannon Williams that he wrote the song and that he could prove this by producing his 1958 copyright. After many threats, Nashboro paid up. But Clapton found later that Boggs stole the song from Lovelace Watkins who had filed copyright back in the late Forties.
By 1964, The Boggs Specials had become a trio of Harold, Warner, and Billy Bennett. As was the custom, Harold and Warner doubled on piano and organ. This trio stayed in place throughout the Sixties. "We always tried to make the Florida trip via Kentucky," says Warner, "often ending up at Winter Park for the Boyer Brothers." The Boggs Specials and the Boyer Brothers sometimes exchanged programs, according to Prof. James Boyer. The Boggs Specials also toured the South, ending up in New Orleans.
In 1968 Harold was called to the ministry. In 1972 he was officially ordained by Bishop Quander L. Wilson of The Greater Life Evangelistic Temple in Columbus. By 1973 Boggs had become pastor of the modest Gypsum Tabernacle, and with a little fixing up he made it into a place where one would want to come and worship.
In 1995 Harold and his flock moved to a new and more striking edifice on State Street. Harold quit the road in the mid-Seventies. In later years Harold traveled with the B & J Singers and sang with the January Sisters.
On record, Harold cut ten albums for Nashboro and a couple for AVI in Los Angeles before moving on to The Champs Recording Company of Nashville and The Sound of Gospel Recording Company in Detroit. In the mid-Nineties, he recorded for S of GR with the Gypsum Tabernacle Choir.
Harold's style of singing and delivery grew more urgent and sanctified over the years. The tough and gruff sensational approach replaced the calmer, more sedate recordings of the 1950s. Even Harold had to keep up with the times. My personal favorite album is God Is Soul Food (Nashboro 7106, 1972). Here, we have the Boggs Singers in their roughest, feistiest predilection.
Harold was an unassuming man of great musical ability who could have achieved in his lifetime all the praises and accolades bestowed upon such rival talents as the flamboyantly outrageous Prof. Alex Bradford or the eagerly ambitious Rev. James Cleveland. Harold, who never married or fathered any children, preferred to stay true to his faithful and do his part for the local Christian community. He passed away, following a brief illness, on Sunday, November 12, 2000, at Magruder Hospital in Port Clinton, nine months after the passing of his mother. His homecoming celebration was held on the 17th of November at the Gypsum, attended by family and old friends (including the reclusive Lula Reed). The celebration was officiated by the man who ordained him, Bishop Quander L. Wilson. Boggs was buried on the Underground Railroad at The Christy Chapel Cemetery.
Warner Buxton passed on Thursday May 1st, 2008 at his home on Beech Street in Port Clinton.
––– Opal Louis Nations,
March 2001 / June 2017
with research assistance from Deacon Warner Buxton, Elder Paula Curley, Shannon Williams, Eric LeBlanc, Mark Carrodus, Chris Strachwitz and Annie Johnston
List of Prof. Harold Boggs' Nashboro albums, 1966-1977:
l. Lord, Give Me Strength – Nashboro LP 7032 (1966)
2. I Believe – Nashboro LP 7044 (1967)
3. Prof. Harold Boggs Sings Just For You – Nashboro 7062 (1968)
4. Just The Two Of Us – Nashboro 7076 (1969)
5. Prof. Harold Boggs – Nashboro 8432 (1969-1970) / AVI 50016
6. Prof. Harold Boggs & The Boggs Specials – Nashboro 7090 (1970-1971)
7. God Is Soul Food – Nashboro 7106 (1972)
8. Heaven In My Soul – Nashboro 7134 (1974)
9. If You Just Hold Out – Nashboro 7162 (1976)
10. Have You Ever Had The Buts? – Nashboro 7189 (1977)
© 2001 & 2017 Opal Louis Nations
Written by : Bob Marovich
Bob Marovich is a gospel music historian, author, and radio host. Founder of Journal of Gospel Music blog (formally The Black Gospel Blog) and producer of the Gospel Memories Radio Show.