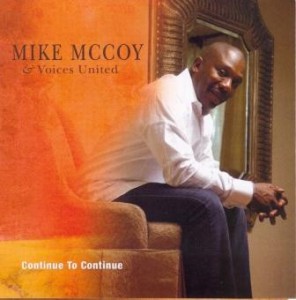 Mike McCoy & Voices United
Continue to Continue
M. McCoy Publishing (2008)
http://www.mikemccoy.info/
Reviewed by Bob Marovich for The Black Gospel Blog.
In 1994, Mike McCoy assembled Voices United from choir directors, pastors, preachers, praise and worship leaders, musicians and evangelists living in the Washington, DC area.
In February 2006, the group won the national Gospel Heritage Praise & Worship Choir Competition, and two years later, released its sophomore CD, Continue to Continue.
Their combined professionalism and years of singing together are evident on Continue to Continue, recorded live at the Master's Child Church in District Heights, Maryland, where Bishop Melvin Robinson, Jr. is Senior Pastor.
Voices United is a contemporary gospel choir with a big, bold, brassy sound; its round, throaty harmonies are especially robust on tracks such as "Join Me in the Praise," "Help Me Lift Jesus Up" and "Get Thee Hence." The group can also sound like an old-fashioned senior choir, as on Freddy Jackson's lushly orchestrated, classical "Come Thy Holy Spirit." The ensemble navigates the complex choral parts seamlessly.
Several female lead vocalists stand out on Continue to Continue. Cherlita Claiborne handles the contemporary ballad "He'll Take Care of You" with lovely finesse, and Lady Kim McLeod does an equally fine job on "I'll Praise Him." The star, however, is Vanessa Williams on "From My Heart." She gives this praise ballad an R&B feel with Whitney Houston-style grace notes.
Stephen Hurd makes a cameo appearance as Exaltor on "Lord I Worship You the King." Listen for McCoy's polished piano work throughout the project.
Continue to Continue is restful and contemplative, and with the right amount of energy to keep listeners engaged and inspired.
Four of Five Stars
"From My Heart," "I'll Praise Him."
Written by : Bob Marovich
Bob Marovich is a gospel music historian, author, and radio host. Founder of Journal of Gospel Music blog (formally The Black Gospel Blog) and producer of the Gospel Memories Radio Show.