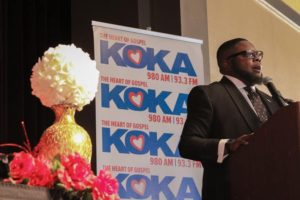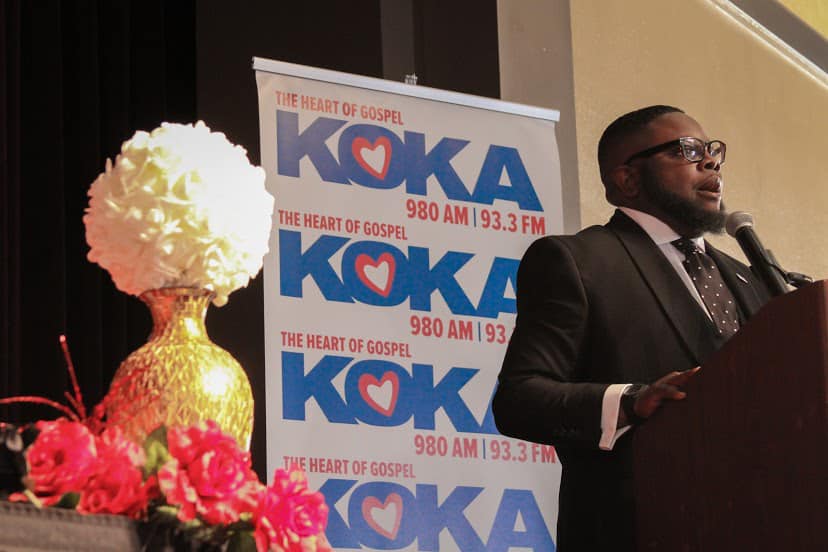 From a press release:
With the explosive growth of digital streaming, the rise of social media and other online distractions, many have pronounced terrestrial radio dead.
However, KOKA – The Heart of Gospel – Shreveport, Louisiana's first African American radio station, with a history dating back to the 1950s – is very much alive. The station – which had been in decline for some years – has been robustly resuscitated by its proactive 31-year-old program director, Charles "Pastor CeJay" Johnson. In the midst of a national pandemic and civil rights unrest, Johnson has taken stands and made decisions that have renewed the station's relationship with the local community and made it a leader in the gospel music industry nationally.
Only on the job for a year, Johnson hit the ground running when he assumed his position in August of 2019 – just a few months after the death of KOKA's longtime program director, Eddie Giles, an erstwhile R&B singer-turned pastor, who had been with the station for over 46 years. Johnson immediately revamped and diversified the playlist to attract a younger audience while also maintaining its longtime listenership. He rebranded the company's logo, branding and developed its website. "The station had no social media presence at all," he admits. "This station had been written off – we didn't have a relationship with the community anymore, no relationship with the major gospel labels and we worked very quickly to repair those problems."
KOKA was once a member of Billboard magazine's coveted Gospel Airplay chart panel and lost its status. Johnson successfully lobbied to get it back on and renewed the station's lapsed relationships with the major record labels. In a few months, the station has become a leader in helping break new records and even established artists have taken note. Gospel legend, Fred Hammond, recently drove from his home in Dallas to Shreveport to spend time with KOKA staff and to thank them for their support of his recent No. 1 hit, "Alright." Even Kirk Franklin recently did a Facebook Live event and other promotional activities with the station.
KOKA's audience is growing again and ratings are up. "This is not just a gospel station," Johnson says. "It's a community station. When people listen, they don't only expect to hear music. They also expect to hear information. We have an opportunity to speak out on certain issues and it's making a difference."
Many locals didn't take the COVID-19 crisis seriously until it started killing prominent people in the city such as retired pastor Dr. Harry Blake, and Shreveport NAACP Chapter President, Lloyd Thompson. Aside from broadcasting information for the public to protect itself from the virus, the station partnered with a law firm to pay for and to distribute thousands of face masks to slow the spread of the illness. During the winter, they give away coats and food baskets to the needy and school supplies in the fall.
In recent months, Johnson has been called upon by local government officials and community leaders alike to help disseminate their respective messages to the public. After a series of high-profile police brutality incidents such as the killing of George Floyd in Minneapolis, racial tensions have boiled over throughout the country and Shreveport was not exempt.
"Our city is racially divided," Johnson confesses. "There was so much tension and bitterness, many people had been scarred from the past. There were people protesting in our streets." In response to the Floyd murder, Johnson led a June 6th unity rally that brought hundreds of people of all races together. "We decided we were going to be a leader," he continues. "We had the mayor. We had the district attorney. We had the school superintendent. We had the chief of police. We had church congregations – black and white – who all took to the street."
Taking to the streets is not the role Johnson envisioned for himself during his youth. He planned to hit the classroom since his childhood heroes were schoolteachers like his neighbor, Mrs. Blackwell. "If I got in trouble at school, I couldn't run from it because she lived a house away. I wanted to be somebody who educated people and empowered people." He earned degrees from Southern University at Shreveport, University of Phoenix, East Texas Baptist University, and is currently working on a doctorate from the United Theological Seminary in Dayton, OH.
Eventually, Johnson's passion for education evolved into a call to ministry. Initially, he held down a full-time job at a call center while pastoring. It was only when he sought a radio show to expand his ministry that broadcasting entered the picture. "I never had an interest in radio," he says. However, he took a job at Alpha Media radio in 2010 as an advertising rep. Over the years, he's earned millions of dollars for the cluster of stations which – in addition to KOKA – includes KDKS (Adult R&B), KBTT (Hip Hop), KTAL (Rock), and KLKL (Adult Hits).
At the company, Johnson was mentored by R&B programmer, Quinn Echols, who gave him a half hour Sunday morning program, "Pastor CeJay's 30 Minute Praise Break," on KBTT – 103.7 The Beat. The show kept growing in popularity, mushrooming from a half hour to eventually five hours. When KOKA's longtime program director died last year, Alpha Media staffers thought that with his sales experience and pastoral history, that he'd be the perfect person to carry the station into a new era.
For Johnson, it's not simply about creating a better music playlist, but also about bringing harmony to the community. "One of the things we have tried to do is become leaders who affect change versus leaders who just complain about where we are," he says. "When I was growing up there was a saying old folks would say, `Don't talk the talk if you can't walk the walk.' We have tried to position ourselves to not only talk, but most importantly to walk."
Talking and walking harks back to Johnson's days of wanting to be an educator. "I still get an opportunity to teach through radio because I talk to thousands of people a day on one microphone in a room where people are listening to my show," he says.
Rebranding the station's slogan from "The Light" to "The Heart of Gospel" was another lesson. When asked why he made the change, he said matter-of-factly that, "This was the first African American station in the city and the state. We've always been the heart of this community." The community is taking heart and that heartbeat is reverberating locally and spreading nationally.
Written by : Bob Marovich
Bob Marovich is a gospel music historian, author, and radio host. Founder of Journal of Gospel Music blog (formally The Black Gospel Blog) and producer of the Gospel Memories Radio Show.