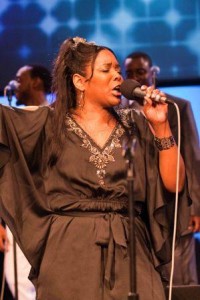 "Miracles"
Tonya Baker
From the forthcoming Kingdom Records CD The Live Encounter (2011)
http://www.kingdomrecordsinc.com/
In 2008, we were introduced to Dayton, Ohio's gospel gem, Tonya Baker, on her Kingdom Records' solo debut, Special Friend. Since then, we've heard her on Joe Pace's Live from the Sanctuary, when she delivered the goods on "Speak a Word," arguably the album's finest moment.
"Miracles" is the first single from the Dayton, Ohio native's forthcoming sophomore CD and first live project, The Live Encounter. Produced by GRAMMY Award-winner Myron Butler, the album was recorded last July at The Ginghamsburg Church near Dayton, OH.
For the single, Tonya Baker teams with background vocalists in a call-and-response on the omnipotence of God. Baker's elastic, tangy gospel vocal complements the swaggering contemporary jazz backdrop, evoking Kim Stratton's performance on "Favor Ain't Fair."
While Baker's sophomore CD won't be released until the spring, listeners can obtain "Miracles" on iTunes, Amazon.com and other online digital music outlets.