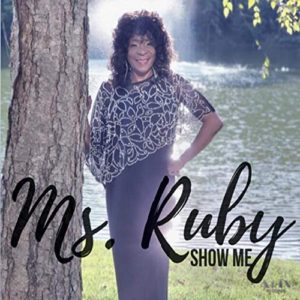 "Show Me"
Ms. Ruby
ARTX Records (release date: October 28, 2019)
By Bob Marovich
Written and sung out of heartbreak over the loss of her only son, "Show Me" gives Ruby Settles, aka Ms. Ruby, a chance to shout her troubles over.
It's a sung prayer that moves from gently supplicant (but with a touch of suppressed anger) to passionate shouting as Ms. Ruby seeks strength in the midst of her darkest hour. By the end, after she hears "His voice" giving her the direction she seeks, you get the sense that she is on her way to better days.
Rickey Howard's melodic sax floats in and out of the arrangement as Ms. Ruby's musky alto delivers the lyrical message with the staccato insistence of a hurting soul demanding answers. Rod Forte produced.
There is an extended version of the single, but the radio edit contains all the main elements.
Though this is Ms. Ruby's first solo single, she can be heard singing backup on Kirk Franklin's "Love Theory" and on The Saint Mark Experience, the 2018 live recording made by her church, Saint Mark Baptist Church, in Little Rock, Arkansas.