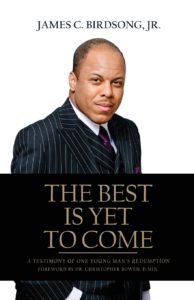 The Best is Yet to Come: A Testimony of One Young Man's Redemption. By James C. Birdsong Jr. T & J Publishers, 2017. 362pp. (softcover). ISBN 978-0-9994121-7-6
By Bob Marovich
Too often, memoirs written by members of famous families paint a rosy portrait of their lives.
Not so in James C. Birdsong Jr.'s earnest The Best is Yet to Come. He is unashamed to talk about the travails he and his family have endured. Indeed, he hopes his tale will help inspire others struggling under similar circumstances.
James comes from the Birdsong family that has provided the world such luminaries as singer Cindy Birdsong (Supremes, Patti LaBelle & the Bluebelles), GRAMMY Award-winning keyboardist Edwin Birdsong, and NBA star Otis Birdsong. They are James' cousins. The "Best" James seeks, per the title, is to join them on the national stage as a gospel music artist.
Born in 1980, James grew up in Richmond, California, a city north of Oakland. He struggled with a speech impediment that landed him in special education. But he was not the only one in the family with challenges to overcome. The hapless victim of a gun accident, James's father, the Reverend James C. Birdsong Sr., was blinded. The limitations this disability placed on James Sr.'s physical capacities and the impact on his mental well being ate away at his marriage, which ultimately ended in divorce. Endeavoring to make sense of it all, a fourteen-year-old James Jr. wrote One Marriage, Many Tales, and a Separation: A Message of Hope.
Birdsong punctuates the prose in his current book with quotes from such inspirational writers as John Maxwell, Rick Warren, and John Gray, and of course Scripture. He also quotes from gospel songs of yesterday and today, and sets each chapter in time by referencing contemporaneous pop culture.
Birdsong's story isn't all deep and heavy. There was plenty of best in his past. Growing up in a church community where everyone knew one another and took care of one another made a lasting impression on the young James. Unfortunately, stories about strong, resilient, and self-sufficient African American communities like Birdsong chronicles tend to be overlooked by the media and the entertainment industry.
The Best is Yet to Come is conversational in tone but too much so, as it tends toward stream of consciousness off-topic asides that a good editing could have remedied. Culling the references and many of the asides that don't  move the story forward would make the book more concise and, as such, a far more enjoyable read.
Outside of that, The Best is Yet to Come is honest and forthright in a gentle, optimistic way, like the author himself.
Written by : Bob Marovich
Bob Marovich is a gospel music historian, author, and radio host. Founder of Journal of Gospel Music blog (formally The Black Gospel Blog) and producer of the Gospel Memories Radio Show.