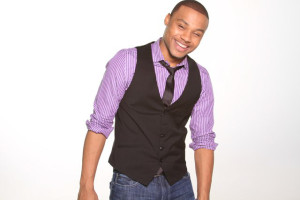 By Bob Marovich for The Black Gospel Blog
The odds are less than 100 to 1 that a high school baseball player will go pro.
That didn't deter Todd Dulaney.
"For years, my parents and I, we traveled from city to city, playing travel league baseball," Dulaney told TBGB. "That's all I wanted to do. When I got drafted at 18, I was locked and loaded! That was my passion! I played hundreds of games before I got to the age of 18 and baseball was my hobby. I would always ask my family to get me gifts like some wood baseball bats or some new cleats for Christmas. Baseball was my life and it still is!"
Today, Dulaney is a Stellar-nominated gospel singer. But in 2001, the Maywood, Illinois native beat the odds and was drafted by the New York Mets. He moved to St. Lucie, Florida, site of Mets training camp, and played minor league ball as well as participated in major league spring training.
While he grew up listening to his brother's Deitrick Haddon tapes, Dulaney also became attracted to country music. "No matter where you are traveling, playing baseball," he said, "country music always comes in on the radio." Citing Rascal Flatts as one of his favorite bands, Dulaney said country played a role in the formation of his vocal style.
During one of the off-seasons, Dulaney began attending Victory Cathedral, where Smokie Norful is pastor. "I got a chance to see music and ministry at a whole other level," he said. "It grabbed my attention like never before." He joined the praise team and began singing for Sunday services.
Norful took an interest in the new praise team member and invited him to sing background on his tour. Dulaney was incredulous. "I'm like, 'Man, what do I have to do?' I had never sung background for anyone! Smokie said, 'Just do what you've been doing every Sunday morning.'"
The first engagement was the Stellar Awards. "It was nerve-wracking," Dulaney remembered. I'm looking out there, seeing Yolanda Adams and Tye Tribbett sitting right in front!"
Dropped by the Mets, Dulaney hung up his baseball cleats and, convinced his calling was music ministry, enrolled in Northern Illinois University to study communications. "It was rough," he said. "My study habits were not good at all! I was still traveling with Pastor Norful and trying to do both at the same time!"
While at Pastor Bill Winston's Living Word Christian Center in Forest Park Illinois, where he is now Praise & Worship Leader, Dulaney met a gentleman who told him about GoldStreet Gospel, a new record label auditioning gospel artists for its roster. Dulaney attended the audition but the whole thing sounded too good to be true. He considered the offer for several months before signing with the company.
"By that time, [GoldStreet Gospel owner] Bruce Spann had signed a ton of artists," Dulaney said, "and I was probably at the bottom of the list of artists he had signed. But some kind of way, God worked it in my favor that I was the first and only artist to receive a national release."
Part of it had to do with Dulaney's persistence. He was unafraid to plead his case to Spann, just as he had once pleaded his case to the Mets. "I said, 'Man, I believe I'm your guy. I believe if you give me a chance I can do it.'" Spann agreed to release one single, "Pulling Me Through."
"Pulling Me Through" took off and GoldStreet had a hit. "People all over the world were like, 'This song is my testimony!' From there, Spann focused on pushing Dulaney. The result was a full-length album, Pulling Me Through, which led to a 2012 Stellar nomination for Best New Artist.
Todd Dulaney is now an active participant in the gospel music circuit and a favorite on TBN's Praise the Lord broadcast. "TBN and I have become quite a partner; it's like my fifth time on the show in two years."
He describes his style as "Simple and mine. Though some people say I sound like Sam Cooke or [R&B artist] Joe, I haven't tried to take anyone else's style. For me, simplicity is the best way to articulate what you need to say. If I sing so much that I overpower the message, I'm being detrimental to gospel music. The gospel should stand out more than the voice."
Dulaney has a new single, "No Other Name," and an album scheduled for release early next year. He also plans to release "Trust In You" in the next three to four weeks. It is an exclusive track he says is "just for the people. I'm not even sure we're going to release it to radio, but just for the people to get their ears on it, in preparation for the album next year."
"Trust in You" was written from experience. "I found out how easy it is to get swept up in the music business," Dulaney admitted. "I had to get back to where I started. When I first came into this, after chasing the dream of playing major league baseball, all I had was my trust in God. Nobody believed it was the right decision. The song says when everything is going crazy around me, when the world seems to be fading, all I have is my trust in God."
For more information, visit www.goldstreetgospel.com and www.todddulaney.com.
NOTE: On Tuesday, August 20, Todd Dulaney will sing live on the internationally syndicated television show, The Harvest Show, on the LeSEA Broadcasting Network. Watch his appearance online at www.lesea.com/WHT/index.cfm.