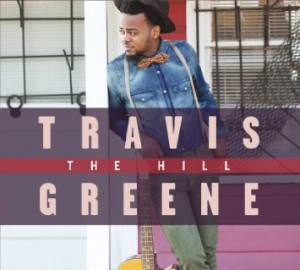 Travis Greene
The Hill
RCA Inspiration (release date: October 30, 2015)
www.travisgreene.tv
By Bob Marovich
At age four, Travis Greene fell out of an apartment window in Germany and was pronounced dead.
His praying mother believed otherwise. She picked up her limp toddler, called repetitively on Jesus, and little Travis opened his eyes.
Greene relates this and other inspirational true stories on the title track of his major label debut album, The Hill, recorded live with a battalion of musicians and singers at Mosaic Church in Charlotte, North Carolina.
With such a remarkable backstory, it's not surprising that Greene's performance is pure Praise & Worship, equal parts clarion calls and meditative mantras.  The trademarks of Greene's songs—he wrote or co-wrote all of the album tracks—are their stripped down lyrics and largely alt-rock musical foundation.
First, the lyrics. Greene and his team groove on wordless chants and simple, recurrent clauses and couplets that often serve as choruses. Couplets are repeated antiphonally and with ever increasing levels of intensity until Greene, the background vocalists, and the live audience either march in union as disciples or freefall into hypnotic prayer ecstasy.
Second, the music. The Hill demonstrates how thin the stylistic line is between gospel, inspirational, and CCM in the twenty-first century. While "You Got Up" incorporates an engaging island beat, "Love Me Too Much" sonically resembles U2, and the current single, "Intentional," comes close to film soundtrack fare with its dramatic flourishes, many of the songs run along in that floating, liquid state popularized by recording artist William McDowell and megachurch worship leaders coast-to-coast. Songs such as "Who You Were," in fact, evoke classic McDowell in words and music.  
Contextually, the songs are just as simple. On the slow and emotional "Made a Way," Greene acknowledges that he is only here because of God and, even more, God loves him in spite of himself ("Thank You for Being God"). These are sufficient terms for lifelong discipleship because, as Greene states on "Love Me Too Much"—possibly recalling that nearly fatal fall—"it could have been the other way…thank you, Jesus." Or, as the quartets used to sing, "I could have been dead, sleeping in my grave."
Travis Greene's The Hill has the youthful vigor and power praise propulsion that will appeal most to young adults and P&W enthusiasts across cultural barriers.
Four of Five Stars
Picks: "Made a Way."