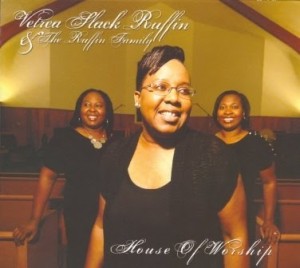 Vetrea Slack Ruffin & the Ruffin Family
House of Worship
Heavenly Spirit Music 2010
http://www.vetreaslackruffin.com/
Vetrea (pron. VEE-tree-ah) Slack Ruffin & the Ruffin Family is a mother-daughter trio who combine the sweet traditional harmonies of the Simmons-Akers Trio with the sassiness of the Clark Sisters and the Anointed Pace Sisters. The result is nothing less than extraordinary. This gospel group from Huntsville, Alabama is splendid and deserves much greater attention.
On their album, House of Worship, the Ruffin trio (the daughters are Lacretia and Angel) use their COGIC music experience to transform even the most uncomplicated praise and worship songs into something special. Just listen to the third track, "The Place I Need You," and you will know that this group is trained, talented and the real deal.
The outstanding selection on the album is also the current single, "That's Why I Call His Name." Here the ladies trade their Clark Sisters sound for an Afro-Caribbean gospel style that I haven't heard since Arise's "Arise Medley" two years ago. At the end of the song, one of Vetrea's grandchildren begs them not to stop singing. She says aloud what we are thinking.
"Victorious, More than a Conqueror" is a fine example of the trio's clear-as-a-bell harmonies, while "God Is Good" shows they are equally capable of delivering a handclapping, full-throttle church song. On "Lord, I Wanna Thank You," the Ruffins handle quartet with the same confidence, with Thomas Holman, Sr. providing an authentic shouting lead.
The ladies tag on a hymn to the conclusion of "Lord I Need You," forming an ending so heartwarming and pure, it takes your breath away.
A celebrity sighting: gospel promoter Ms. Willie McClendon has a speaking role on "Fill This Place."
Singer-songwriter Vetrea is no newcomer to gospel music. Years ago, her mother formed The Slack Family Singers, a traditional gospel group, when the family was based in the St. Louis area. Vetrea is active in the COGIC church, and serves as First Lady of Forge Temple COGIC in Birmingham (husband Dr. Paul B. Ruffin contributes a sermon to the project). Clearly the Slack musical gene has traveled down through the generations.
To the many individual contributors who provided the financial support for House of Worship – they are listed on the inside jacket – your investment was well worth it.
Five of Five Stars
gPod Picks: "That's Why I Call His Name," "God Is Good," "The Place I Need You."
Reviewed by Bob Marovich for The Black Gospel Blog.
Written by : Bob Marovich
Bob Marovich is a gospel music historian, author, and radio host. Founder of Journal of Gospel Music blog (formally The Black Gospel Blog) and producer of the Gospel Memories Radio Show.