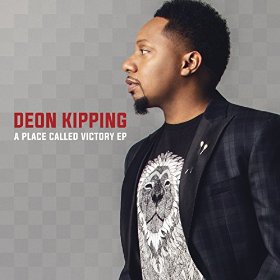 By Bob Marovich
The stage curtains opened on JJ Hairston & Youthful Praise as the group was about to introduce its new song and soon-to-become-hit, "Incredible God, Incredible Praise." Holding the microphone was the song's creator, Deon Kipping.
That wasn't the way it was supposed to go down.
"I didn't want to lead the song," Kipping told JGM. "I wanted to give it to somebody else to lead, but the curtain was opening and I had the microphone in my hand. So I had to walk out and sing it."
That moment, and that song, became Kipping's inadvertent introduction into the commercial gospel music world. Since then, he has landed an album on the Billboard Top Gospel Albums chart, a song on the top ten gospel singles chart, and now has a new EP, A Place Called Victory.
Raised in Connecticut, Kipping absorbed as much music inspiration from Stevie Wonder and Marvin Gaye as from Marvin Winans and his all-time favorite singer, Sam Cooke. But he hadn't planned on being a professional singer. "I wanted to work behind the scenes in all genres of music," Kipping said, "like in A&R [Artists & Repertoire]."
Kipping's entre' into gospel music came from a local group he admired. "JJ Hairston and Youthful Praise was the main group from Bridgeport, Connecticut," he said. "I followed them and studied them."
Eventually, Hairston gave Kipping a chance to write a song for the group.
"I taught the song at a rehearsal, but JJ didn't like it," Kipping recounted. "He didn't think it would fit with the recording they were doing. I went home, really upset. At home, I got on the piano and just started playing the melody line of what became the chorus of 'Incredible God, Incredible Praise.' I called JJ and sang the hook. He said he wanted it. So the next day, I started thinking about issues my family was dealing with, and that I was dealing with—including that I didn't get my first song placed—and I realized that no matter what happens, an incredible God deserves an incredible praise. That was the basis of the song."
He added: "When I saw how people loved the song the night of the recording, and how people were being blessed and touched by the music, I thought, 'Wow, this is where I belong.'"
From then on, Kipping focused on writing religious songs and singing them. "I studied Marvin Winans and Andrae Crouch, who went from being songwriters to singers. I thought it was time for me to be that voice to lead the message that God has given me."
Kipping released his first album, Real Life. Real Worship, independently, but gained the attention of RCA Inspiration while singing on gospel programs in nearby New York. RCA Inspiration signed him and in 2012 released I Just Want to Hear You, in association with Verity Records. The album not only reached the Billboard Top Gospel Albums Chart but entered the storied Billboard 200 albums list (covering all genres), where it peaked at 127.  "I'm forever grateful to RCA Inspiration for giving me a chance," Kipping said.
His first top ten single, "A Place Called Victory," sparked the idea for a full album, to be preceded by an EP. 
About "A Place Called Victory," Kipping explained: "We visit pain and heartache, and we stay there a little longer. But you should get to a place called Victory and stay there and not let anybody push you out." "By Myself," the follow-up single, "is a simple song with a strong message." Read JGM's review of the EP here.  The new album is completed and will be released soon.
Are the songs autobiographical? "In a sense, yes," he answered. "Most songs are like that. I can't dispute that."
Kipping's music is bolstered by a strong team of background vocalists, who Kipping said "are friends and family that I've grown up with in Connecticut. Some I met when I was in high school. Some of their parents were mentors to me. It is a group of talented individuals who sing and write on their own, and I'm just grateful to have them."
And what is the origin of his Twitter handle @ThatDudeDeon?
Kipping laughed. "My uncle called me that: 'That dude Deon, he can write songs, he can sing, and he can take care of his grandmother!'"
For more information, visit www.deonkipping.com.