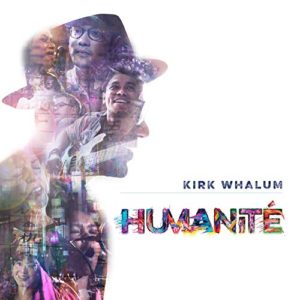 Kirk Whalum
Humanite'
Mack Avenue Music Group (release date: October 11, 2019)
www.mackavenue.com
By Bob Marovich
If music is a universal language, the jazz idiom seems particularly equipped to express the essence of every culture. In doing so, it has the power to unify the world.
I suspect saxophonist Kirk Whalum would agree. His latest release, Humanite', is a love poem to world harmony. While not overtly religious, the album contains themes like freedom, love, hope, and optimism that resonate throughout various religions. But rather than lean on a higher power to solve every problem, Humanite' suggests that it is up to us to, as Gandhi said, be the change we want to see in the world.
The album is global in message as well as in stylistic scope. Its many featured singers and musicians hail from the U.S., the U.K., South Africa, Japan, Indonesia, Kenya, and France. James McMillan recorded the album in six different locations in five countries. Though the songs traverse different musical roads, they are linked together by theme, by jazz, and by Whalum's tenor, baritone and soprano sax (mostly, he weaves his melodic lines with the tenor sax).
Whalum is best remembered for delivering the steamy sax solo on Whitney Houston's smash hit from The Bodyguard, "I Will Always Love You." As a PK from Memphis, his playing cannot help but contain elements of the church. He is ever-present on Humanite', but nowhere more fluid than on Liane Carroll's marvelous cover of Skylark's 1972 "Wildflower," and on "Korogocho," where he almost steals the limelight from the dueling bassists Marcus Miller and Barry Likumahuwa.
Lyrically, the album revolves around the Reverend Dr. Martin Luther King Jr.'s notion of The Beloved Community as a society based on justice and equal rights. A companion documentary explores this connection further.
"Now I Know," sung in Zulu and English by the popular South African chanteuse Zahara (Bulelwa Mkutukana), is a gorgeous ballad in which Whalum's sax caresses every line. "Peace," featuring Indonesian singer Grace Sahertian, who worked with Whalum on her 2018 song, "Beautiful," could easily be fashioned into a gospel song in the hands of the right artist. In spoken word and song, Nigerian-French singer Asa gives "We Shall Overcome You" Humanite''s most explicit messaging–how love will ultimately prevail over injustice and hatred. "We shall overcome you," she sings, "we shall not become you."
"Wake Up Everybody" and "Blow 4 U" are classic Whalum, while "From the East to the West," featuring the Japanese Christian instrumental ensemble Heavenese, is one of the album's most distinctive selections.
At a time of great division within and among nations, Humanite' reminds us of our fundamental commonality and the importance of treating one another as brothers and sisters. Though not gospel music in the strictest sense of the term, the message is the same: love one another—no asterisks.
Four of Five Stars
Picks: "Wildflower," "Now I Know," Peace"