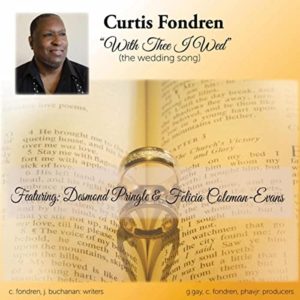 "With Thee I Wed (The Wedding Song)"
Curtis Fondren feat. Desmond Pringle & Felicia Coleman-Evans
Independent (release date: June 18, 2021)
By Robert M. Marovich
Longtime Chicago gospel musician Curtis Fondren offers something for the wedding trade in "With Thee I Wed."
This '80s-esque slow jam evokes the tracks on Fred Hammond's love album, complete with vow-like lyrics and honeyed melody and arrangement.
The song spotlights two extraordinary talents, Desmond Pringle and Felicia Coleman-Evans, both of whom are soloists in their own right. They deliver the appropriately smooth-as-silk singing. Coleman-Evans in particular could sing the fine print on a credit card offer and it would be a hit.
Might be tough to get this one on gospel radio program lists, but I'm not certain that was ever the intent. It is certainly ready for the R&B quiet storm format and ideal for couples taking the step into matrimony. Fondren co-produced with Gregory Gay and Grammy-nominated artist Pharis Evans Jr.
Written by : Bob Marovich
Bob Marovich is a gospel music historian, author, and radio host. Founder of Journal of Gospel Music blog (formally The Black Gospel Blog) and producer of the Gospel Memories Radio Show.