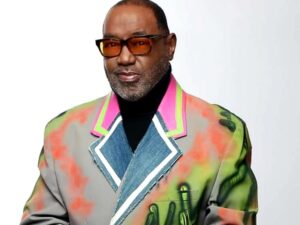 By Robert M. Marovich
The gospel music community is mourning the loss of Derrick Lee, who transitioned from labor to reward February 19, 2022, at Vanderbilt Hospital in Nashville, Tennessee. He had been battling health issues for some time and had been in the hospital since the week after Christmas 2021. Friends and associates sete up a GoFundMe page to help defray his hospital expenses.
From Newark, New Jersey, Lee was a talented songwriter and musician who went on to become the music director for BET's Bobby Jones Gospel, the longest-running gospel music television program. After his show's 35-year tenure on BET ended, Ambassador Dr. Bobby Jones took his show to Impact TV, and Lee became music director for the new telecast, Bobby Jones Presents. Many guest artists on these broadcasts have cited Lee's enthusiasm and encouragement as helping calm their internal butterflies before appearing in front of the cameras.
Besides a songwriter and musician, Lee was also a sought-after producer. Under Dherico Music, he produced many gospel albums for a variety of artists, including Dr. Jones. A couple of his productions were reviewed on JGM, most notably the Reverend Lawrence Thomison's Going to Church (2019) and Everett Drake's Amen Goes Right There (2011).
JGM will endeavor to provide information on Derrick Lee's homegoing services when they are available to the public. Meanwhile, we join the community of fans, friends, family, and colleagues of Derrick Lee in expressing our sincerest sympathies.
Written by : Bob Marovich
Bob Marovich is a gospel music historian, author, and radio host. Founder of Journal of Gospel Music blog (formally The Black Gospel Blog) and producer of the Gospel Memories Radio Show.