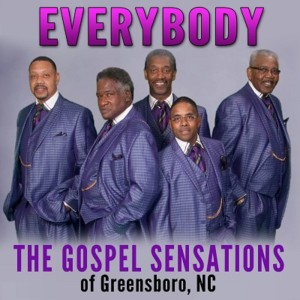 By Bob Marovich
To carve out a niche in a quartet community crowded with local and national artists, the Gospel Sensations are employing a time-honored principle that has been all but abandoned in gospel music.
A cappella harmony singing.
That's right: trendsetting by going back to the way gospel quartets sang prior to the 1950s: without musical instruments.
And people like it.
"Sometimes music takes a more commercial turn, and I get that," said Robert C. Marion Jr., member of the Gospel Sensations. "It takes money to finance a ministry, but the a cappella sound, when it is done right, it surpasses all from a spirituality perspective. All of God's music sounds great, but when you take the new technology and apply an old sound, it is spiritual and it has a beautiful sound."
The quartet organized in 2003 and initially performed Motown covers.  Things changed in 2003 or 2004 when they were invited to sing at a men's program for a local church.
"That particular morning, the spirit hit me pretty hard," Marion recalled. "We were doing 'Touch the Hem of His Garment' by the Soul Stirrers, and that following week, I told the group, 'That's it for me. I'm just going to sing gospel music.' We've been doing it ever since."
The Gospel Sensations have since opened up for Lee Williams & the Spiritual QCs, Luther Barnes, Rance Allen, Donald Lawrence, and Yolanda Adams, among others.
Marion, Ronald E. Parker, Brian K. Jeffries, Gary Davis, and Steven Harrison comprise the Gospel Sensations. Marion found Gary Davis through Davis's daughter who worked with Marion's wife. Davis comes from a family of singers: some of his uncles and cousins were in the Mighty Wonders of High Point, North Carolina. Brian Jeffries knew Steven Harrison from church and put Harrison's name in the hat as a potential member. Harrison joined around 2008.
The quartet takes its inspiration from classic gospel quartets such as the Soul Stirrers and the Dixie Hummingbirds. "And I can't leave out the Fairfield Four," Marion added. "It would be amazing to sit through a concert with all three of those groups on the ticket. I'm a student of the foundation that they built."
Nodding to the group's origins, Davis added: "Some people call us the 'Gospel Temptations!'"
Harrison said audiences "are very surprised with the five-part harmony that we use. I've heard people say that they've never heard anything like it before. We've brought that old style flavor back. But what amazes me most is that the young people are really attracted to it. Most gospel groups don't do that [anymore]."
Marion added: "We have a little motto that says 'true harmony comes from God.' Not just harmony in our voices but harmony within the group and in our families. So we structure our harmony very similar to the old school style but every now and then we'll add a few different notes to give it a different flavor, a different personality."
Marion, who serves as the quartet's harmony instructor, benefited from the interest of a music teacher, a former trombonist with Count Basie's traveling orchestra. "He saw something in me as it related to music," Marion said. "He took me under his wing, and by the time I was fourteen or fifteen, he had me playing multiple instruments. He's passed on, but I couldn't have done it without God placing him in my life."
Besides a cappella harmonies, the Gospel Sensations have something that was once ubiquitous in gospel quartet but is now unusual: a bass singer. That singer would be Brian Jeffries. "It's very difficult to find a true bass, like the bass singer for the Fairfield Four, the Oak Ridge Boys, or the Temptations," Marion said. "Those guys are quintessential when it comes to bass, but we use it as effectively as possible."
Marion added: "The other thing we try to do with Steven and Gary, the high tenor, which you'll hear in [our singles] 'Order My Steps' or 'Old Ship of Zion,' is to put a rich falsetto in the melody of the songs. It gives it a very soothing sound. And we try to make sure there are no gaps in the middle of the harmonies and that the baritone and bass carry the low end. We try to choose the right baritone or bass notes to give the harmony excitement."
The quartet's current album, Everybody, is its third CD. It includes traditional as well as newly-penned songs, and a cappella renderings alongside songs with musical accompaniment.
Harrison noted that the group performs locally and within an hour of their hometown of Greensboro, North Carolina. "We don't travel as much as we'd like to," he said, "but we are on the road at least once or twice a month."
September will see the Gospel Sensations traveling to appear for four days in and around Crockett, Texas. This will include a performance at the second largest correctional institution in Texas. "Going there will be probably the highlight of my career," Marion said. "Whenever we can touch lives, no matter where they are on their journey through this world, we'll make it happen."
Meanwhile, the quartet is currently working on an arrangement of Sam Cooke's classic "A Change is Gonna Come." While it will include instrumentation, the quartet plans to sing it with old style harmonies.
"Sam Cooke and the Soul Stirrers started it and we're just trying to keep it going," Marion said.  "It's been very rewarding. I wouldn't take nothing for our journey."
For more information on the Gospel Sensations and to hear selections from their albums, visit: www.gospelsensations.com.
Written by : Bob Marovich
Bob Marovich is a gospel music historian, author, and radio host. Founder of Journal of Gospel Music blog (formally The Black Gospel Blog) and producer of the Gospel Memories Radio Show.