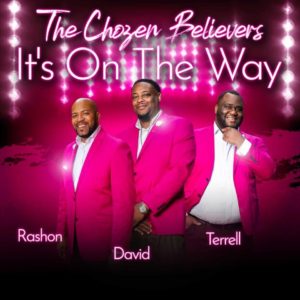 "It's On the Way"
The Chozen Believers
Independent (release date: April 2020)
By Bob Marovich
Most gospel songs these days speak to the world's current condition. People need hope and encouragement, after all.
The Chozen Believers' debut single, "It's on the Way," certainly offers a message everyone needs to hear right now. Looking for joy? It's on the way. Your blessing? It's on the way. The arrangement has all the fixings of a raw quartet workout, vamp and all, but with a smooth patina to appeal to a contemporary audience.
Organized last July, the Chozen Believers hails from Tuscaloosa, Alabama. All members–lead vocalist Terrell Shepherd, Rashon Smith, and David Wilks–bring experience singing with other local groups to this new aggregation. The group is now working on a full-length album.
Written by : Bob Marovich
Bob Marovich is a gospel music historian, author, and radio host. Founder of Journal of Gospel Music blog (formally The Black Gospel Blog) and producer of the Gospel Memories Radio Show.