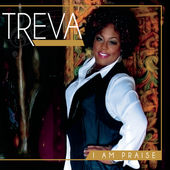 Treva
I Am Praise (EP)
chezmusique (2014)
www.TrevaJones.com
By Bob Marovich
Treva Jones did it the right way.
The Houston, Texas, vocalist released a five-track EP that showcases the many shades of her vocal talent on songs written by gifted songwriters such as V. Michael McKay and the late O'Landa Draper.  She hired Sanchez Harley as a producer, and she stayed fairly true to one style of gospel (in her case, traditional) instead of wandering around in an effort to please everyone.
Treva demonstrates vocal versatility on I Am Praise.  The opening cut, "There's a Blessing," is a new song written with an old, wooden church soul; the closer, the classic "Since Jesus Came Into My Heart," features a barrelhouse piano evocative of the 1930s work of Thomas A. Dorsey.
The title track by V. Michael McKay drapes lyrics about forsaking worldly enticements to serve the Lord in a lovely show tune melody. A robust chorus of background vocalists and bluesy B3 support Treva on O'Landa Draper's "God Has It All in Control."
Treva's vocals are powerful—she can transition from a whisper to a shout without any trouble at all.  She credits the late Carl Preacher of the Southeast Inspirational Choir (the same group that introduced Yolanda Adams to the national gospel community) as her inspiration.  The Oklahoma City native is now one of Houston's hometown favorites, and for good reason: she is a church singer who can also deliver the kind of gospel song that suits a musical program.  She deserves more attention.
Four of Five Stars
Picks: "There's a Blessing," "Since Jesus Came Into My Heart."
Written by : Bob Marovich
Bob Marovich is a gospel music historian, author, and radio host. Founder of Journal of Gospel Music blog (formally The Black Gospel Blog) and producer of the Gospel Memories Radio Show.