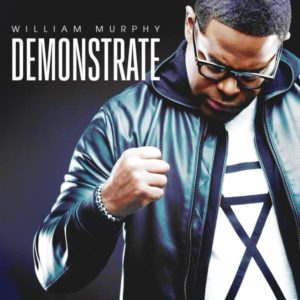 William Murphy
Demonstrate
RCA Inspiration (released June 24, 2016)
www.williammurphy.org
By Bob Marovich
Recorded live in May 2015, in Douglasville, Georgia, at the Church at Chapel Hill, Bishop William Murphy's Demonstrate is a worship service in a jewel case.
Murphy's husky vocals are commanding on this buoyant album, the singer's fifth long-playing release. Whether as singer, worship leader, or preacher, Murphy keeps the spirit high and the program rolling, even during the more introspective moments. The melodies are memorable, the lyrics are intentionally simple, the harmonies are tight and spirited, and Murphy puts his stamp on all of it by weaving his vocal lines in and out of, and around, the arrangements.
There's a lot to listen to on this project—an hour and a half, if you include the three bonus selections on the digital deluxe version. Amidst vertical praise numbers are more laterally-focused selections such as "Let Us See Jesus," where Murphy declares that lifting the name of Jesus is a means to receive physical and spiritual healing. He reinforces this theme on "Healer:" "You don't need a cure because we have the healer."
Freedom is another theme that runs through Demonstration. "Your Love," "Free In Deed," and "Lies" point to the power of truth to make one free—freedom from the temptations and challenges of the evil in life and freedom for a better existence. The dramatic ballad "When I'm Weak, I'm Strong" offers comforting inspiration to the downhearted and is one of Murphy's strongest vocal performances on the album.
Bishop James Morton's cameo appearance on "Everlasting God" is the album's most poignant moment. Morton, whose brother Bishop Paul S. Morton, helped introduce William, the third generation of William Murphys, to the gospel music world, closes out this nine-minute selection by contrasting its contemporary worship vibe with traditional gospel bluesiness. Tasha Cobbs ably assists on "I Have Found," as does CCM singer Nicole Binion on "Let Us See Jesus."
One of the singles, "Arise (You Are Good)" offers a bit of a gospel bump at the end, courtesy of the musicians. One can imagine the live audience on its feet and moving to the beat. Listeners have a chance to don their shouting shoes again toward the conclusion of "Get the Glory/Be Glorified," one of the three bonus tracks on the digital deluxe version.
Special mention needs to be given to the background vocalists, who carry just as much, if not more, of the singing load as Murphy. An unrelenting energy and optimism in the singing and musicianship propel this album from beginning to end.
Five of Five Stars
Picks: "Arise (You Are Good)," "To God Be the Glory," "Everlasting God."
Written by : Bob Marovich
Bob Marovich is a gospel music historian, author, and radio host. Founder of Journal of Gospel Music blog (formally The Black Gospel Blog) and producer of the Gospel Memories Radio Show.