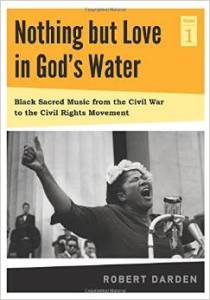 Nothing But Love in God's Water:
Volume 1: Black Sacred Music from the Civil War to the Civil Rights Movement
Robert Darden
Penn State University Press (224 pages)
By Bob Marovich
"A singing army is a winning army, and a singing labor movement cannot be defeated."
So proclaimed labor leader John L. Lewis, and as Baylor University associate professor Robert Darden argues in his new book, Nothing But Love in God's Water, the statement is equally relevant if "army" is replaced with "people" and "labor" with "civil rights."
Darden, former gospel editor for Billboard, author of the well-respected gospel music history, People Get Ready!, and visionary behind the Black Gospel Music Restoration Project, details how black sacred music has served for centuries as a catalyst for change.
This first volume of a two-volume set (released in October; the second is slated for release in late 2015) traces the roots of American black sacred music from West African cosmology to its metamorphosis as the spiritual and gospel hymn. Darden illustrates how spirituals were a form of protest music. Enslaved African Americans could openly express their anger at the status quo and share instructions for escaping to the North via the "hidden narrative" implicit in the lyrics of spirituals.
Perhaps the most important contribution this book makes to American music scholarship is its examination of the role that black sacred music played in the nascent labor union movement. The singing of spirituals and gospel hymns by picketers during some of the most significant labor strikes of the twentieth century helped to make them the protest songs of choice during the civil rights movement. The use of black sacred music in this context also brought the songs to the attention of influential folk musicians and, through them, to a larger percentage of the American population.
Volume 1 concludes with the successful use of spirituals and gospel songs during the 1955-56 Montgomery Bus Boycott. Darden shows how song, oratory, prayer, and the organizational expertise of the African American church came together to propel nonviolent action and chip away at the hitherto impenetrable wall of Jim Crow.
Nothing But Love in God's Water, Volume 1 (the title comes from the hymn "Old Ship of Zion")  is an important primer for understanding the significance of song and "singing armies" in effecting change not only in America, but around the world. It sets the stage for the second volume, which will cover the movement during the tumultuous 1960s.
Today, wherever groups march in protest, singing songs such as "I Shall Not Be Moved," "Woke Up This Morning," or "We Shall Overcome," they are harnessing the power of black sacred song to lift the spirit of the oppressed and turn the heart of the oppressor. Darden's new book provides an eminently readable and consistently fascinating history of how this came to be.
Written by : Bob Marovich
Bob Marovich is a gospel music historian, author, and radio host. Founder of Journal of Gospel Music blog (formally The Black Gospel Blog) and producer of the Gospel Memories Radio Show.