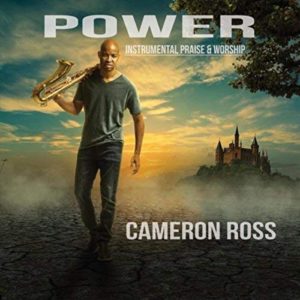 Cameron Ross
Power: Instrumental Praise & Worship
Cameron Ross Music (release date: April 19, 2018)
www.cameronrossmusic.com
By Bob Marovich
Jazz saxophonist Cameron Ross's sophomore album Power lives up to its subtitle.
Ross renders contemporary Praise & Worship favorites in the smooth jazz format and then commences to improvise on their melodies on saxophone. Songs such as Israel Houghton's "You Are Good," Martha Munizzi's "Glorious," and William Murphy's "You Reign" get this restful but restless treatment. Without lyric context, however, songs such as "Jump" and the title track are virtually indistinguishable from non-sacred jazz instrumentals.
A music educator in the Memphis school system, Ross grew up in Osceola, Arkansas. As a youth he opted for the drums but ended up playing the saxophone. This was an inspired decision, as he is a very talented and capable musician. He can play sweetly on some songs and honk like a post-war R&B player on others.
When vocalists are employed on Power, which is frequently, they are not placed in the spotlight. Rather, like just another instrument in the band, they are incorporated into the overall ensemble sound. And whether intended or not, the vocals sound as if they are channeled through auto-tune or some sort of synthesizer. Though the pitches aren't altered, the voices are tinged with electronica. The result is that no matter how much passion the vocalists may have put in their original performances, the electronics extract much of the warmth from their delivery.
Where Ross's smooth jazz/P&W combination works best is on the album's slower pieces. He and his combo offer sweet renditions of "Holy Medley" (a medley of Chris Tomlin compositions)  and Donald Lawrence's "When the Saints Go to Worship." Similar smooth treatments are provided to the pop-opera favorite "The Prayer" (with a lovely assist on flute from Kim Scott), and Richard Smallwood's arrangement of the Doc Watts' chestnut, "I Love the Lord" (from the soundtrack of The Preacher's Wife). Chris Tomlin's "Our God" contains the album's most sophisticated chord changes and harmonic nuances.
Power will appeal to smooth and inspirational jazz fans and, I suspect, enthusiasts of liturgical music because of its emphasis on melody and structure.
Three of Five Stars
Picks: "Holy Medley," "I Love the Lord."