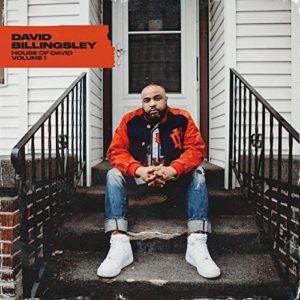 David Billingsley
House of David – Volume 1
Intersound (release date: July 31, 2020)
www.billingsleymusic.com
By Bob Marovich
Only two months after his album debut, Hymns from Grandma's Living Room, jazz pianist David Billingsley has released his sophomore project, House of David, the first volume of self-penned instrumental jazz compositions.
A Racine, Wisconsin, native now living in Minneapolis, Minnesota, Billingsley is founder and executive director of the Billingsley School of Music and Arts, an academy that offers K-12 students access to arts education.
The selections on House of David – Volume 1 are contemplative and thoughtful, designed to conjure the myriad of emotions associated with his life journey and family heritage. Playful reminiscences like "Praise Black Jesus" and "For Mama" evoke the warm nostalgia of church and home, while "Everything's Gone" and "Beautifully Broken" arc toward grown-up reflections. The selections "Hope" and "Grace & Peace" are the musical embodiment of the expressions they endeavor to capture.
This is the kind of album review that typically gets me into trouble. What element or elements constitute the sacred in sacred jazz? Duke Ellington's Sacred Concerts and Horace Silver's "The Preacher" are self-evident. So is Mary Lou Williams' Mass, and the One Mind Temple Evolutionary Transitional Body of Christ, which uses Coltrane's catalog for its worship music. Organists perform fugues in liturgical settings, often as a backdrop to prayerful reflection. Without lyrics that explicitly express the spiritual, or are culled from Bible verses or other religious texts, sacred jazz compositions are open to interpretation. As in the days before the primacy of the moving image, listeners are charged with using their imagination.
In Spirits Rejoice, music scholar Jason Bivins argues that meditation and mysticism in jazz performance are ways for performer and listener alike to communicate with the divine. To Bivins, religion and jazz are forms of "human cultural communication" constantly in search of enlightenment. It is artistic expression in a quest for God, as much a medium to the spiritual as any religious denomination or sacred practice.
All told, then, Billingley's compositions on House of David – Volume 1 work on two levels: as instrumental memoir and as a vehicle to enter into personal communion with their Creator. More easily analyzed is Billingsley's May 2020 Hymns from Grandma's Living Room, a jazz piano interpretation of favorite hymns of the African-American church writ large.
Nevertheless, jazz enthusiasts of all faiths, or with no religious faith at all, will find House of David – Volume 1 pleasing on its own musical merits. Fans of jazz piano in particular will enjoy the album for its introspective mood and interesting shifts in tone and dynamics that don't devolve into facile new age soap-and-candle-store ruminations.
Four of Five Stars
Picks: "Hope," "Grace & Peace"
Written by : Bob Marovich
Bob Marovich is a gospel music historian, author, and radio host. Founder of Journal of Gospel Music blog (formally The Black Gospel Blog) and producer of the Gospel Memories Radio Show.