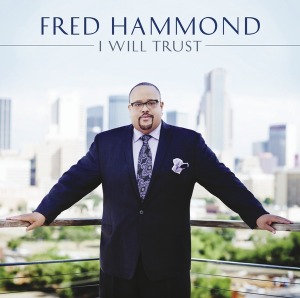 Fred Hammond
I Will Trust
RCA Inspiration (release date: November 17, 2014)
www.rcainspiration.com
By Bob Marovich
One thing's for sure: listen to Fred Hammond and you can't help but have a good time praising the Lord.
His latest album, I Will Trust, is packed to the CD's brim with bracing musicianship, creative melodies and arrangements, rich singing, and demonstrative lyrics.
The opening selection, "Festival of Praise," could easily have been an alternate title for the CD, as the entire album is a musical festival, a cornucopia of praise and worship, Fred Hammond style. Hammond shifts effortlessly from an appropriately Brazilian beat on "Festival" and swatches of reggae on "All the Way" to CCM-flavored rock on "Try Jesus" and touches of electro-pop on "You Bless Me Over and Over." Hammond even dallies with symphonic pop on "It's Only the Comforter." Regardless of style, each song communicates Hammond's unbridled desire to shout God's goodness.
The album shifts back and forth between vertical and lateral praise messages. The lateral "I Owe It All" is one of the album's highlights for its traditional leanings—complete with chirping from a Hammond B3 and a rocking chair 12/8 tempo—and a vamp on which Hammond literally preaches. "Lord Have Your Way" is a delicate worship ballad about leaving one's challenges in the Lord's hands. By the end, Hammond and company have all but lost themselves in the atmospheric worship moment.
Funk is not a term one often uses to describe gospel, but "Take Me to the Water" is 100 percent funky baptism. One envisions white-clad believers not walking but strutting into the baptismal pool to the strains of this selection.
The title track features the lovely vocals of Hammond's daughter BreeAnn. The song sounds autobiographical, although most listeners will empathize with this paean to keeping the faith.
I Will Trust contributes several new songs to the timeless Fred Hammond canon. To learn more about Hammond, listen to JGM's recent interview with the former Commissioned star.
Five of Five Stars
Pick: "I Owe It All," "Lord Have Your Way."