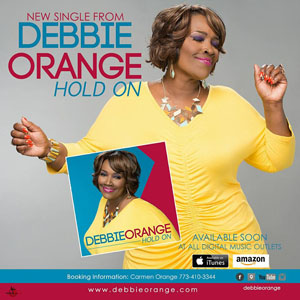 "Hold On"
Debbie Orange
Debbie Orange Publishing Company (2015)
www.DebbieOrange.com
Chicago-based Debbie Orange's new single, "Hold On," is an inadvertent but ideal herald of the coming year.
I doubt she intended it to be so, but her mid-tempo hand-clapper, produced by Montage Pheloan, is the kind of optimistic gospel song that, while effective year-round, is especially suited for radio play during the New Year holidays.
Whereas the Cotton Brothers' "Another New Year"—the gospel bluesy New Year's Day radio favorite—showers appreciation on the Lord for navigating us safely through the trials of the previous year, Orange declares that we look ahead to the promises of the future, because "it's your season."
Written by : Bob Marovich
Bob Marovich is a gospel music historian, author, and radio host. Founder of Journal of Gospel Music blog (formally The Black Gospel Blog) and producer of the Gospel Memories Radio Show.