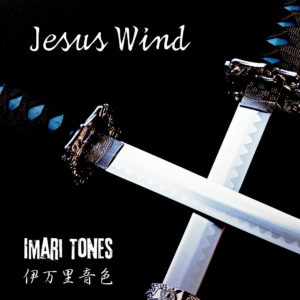 Imari Tones
Jesus Wind
(release date: November 7, 2017)
https://imaritones.bandcamp.com/album/jesus-wind
By Bob Marovich
If you are not familiar with the Imari Tones, they are a Christian heavy metal band from Japan. Their latest release, Jesus Wind, is a concept album about the development of Christianity in Japan, a largely Buddhist nation.
Although I listened to heavy metal in my youth, I never paid much attention to the lyrics, so it took some acclimation for me to get to the kernel of the message on Jesus Wind (the lyrics are, with rare exception, in English).
What I distill from Jesus Wind is this: the group weaves Japanese history with dystopian images of history repeating itself in today's Japan and around the world. God's children were "orphans" in the Japan of the past, and God's children might feel like orphans today, in the wake of global wrongdoing. Nevertheless, the Imari Tones urge the people to continue to fight fearlessly for freedom and save their nation/world from sin. "Don't Stop Walking" is an all-out call for endurance in the name of Christ.
These guys rock harder and faster than even Stryper. Their earnestness is palpable. They use heavy metal excess—growling guitars, ringing power chords, rapid electric guitar solos, animated drumming, pounding bass, off-the-stave falsetto shouting, and shifting time signatures—to underscore the urgency of their message and express the anxiety of the times. The sonic assault begins at measure one, with the opening song, "Jee-You," and does not diminish, with the notable exception of "Remembrance," a touching acoustic instrumental.
By the end of the musical journey, the Imari Tones urge everyone to "remove the chains around your neck" and seek salvation.  At the same time, they despair in "The War" that the nation may not be able to be saved, but yet they will "fight for it, fight for justice, fight for me."  That line is the most poignant in the entire album.
The Imari Tones call Jesus Wind "the heaviest, most intense heavy metal album" it has ever made.  No doubt about that. And while they may have moments of despair, they never lose hope.
Four of Five Stars
Picks: "Remembrance," Jee-You."
Written by : Bob Marovich
Bob Marovich is a gospel music historian, author, and radio host. Founder of Journal of Gospel Music blog (formally The Black Gospel Blog) and producer of the Gospel Memories Radio Show.