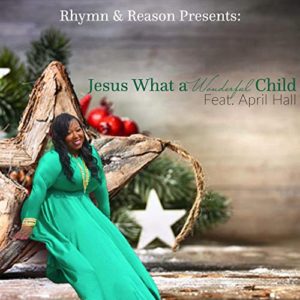 "Jesus What A Wonderful Child"
Rhyme & Reason feat. April Hall
From the Enon Music Group album A Reasonable Gift
(release date: November 20, 2020)
By Robert M. Marovich
It does my heart good to know that the Angelic Gospel Singers' "Glory, Glory to the New Born King," once the most popular Christmas carol in the African-American community, is still being sung more than 70 years since its release.
The production team of Josh Lay and Morgan Turner, known as Rhyme & Reason, covers it under its alternate title, "Jesus What a Wonderful Child." Powerhouse singer April Hall gives the carol every ounce of her vocal energy. Together with the musicians and background vocalists, she evokes a church in the throes of a joyous Christmas service.
April Hall is a member of the New Antioch Church in Baltimore, under the leadership of Bishop Orlando Wilson. She also serves as assistant music director at Baltimore's Southern Baptist Church, under the leadership of her cousin, Bishop Donte Hickman.
Written by : Bob Marovich
Bob Marovich is a gospel music historian, author, and radio host. Founder of Journal of Gospel Music blog (formally The Black Gospel Blog) and producer of the Gospel Memories Radio Show.