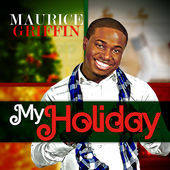 "Christ Is Born"
Maurice Griffin
From the CD My Holiday (2014)
www.MauriceGriffinOnline.com
Maurice Griffin's new single, "Christ Is Born," is a Christmas hymn and Praise & Worship song all in one gift-wrapped package (though I have a friend who thinks all P&W songs sound like Christmas songs).
A finalist on the second season of BET's Sunday Best, Stellar Award nominee, and an entertaining program emcee, Griffin is in great tenor voice on this selection. He and the background vocalists lift hallelujahs and announce Christ's natal day like a choir of angels.
Griffin, who keeps getting better and better vocally, will take his Christmas songs on the road during the "My Holiday" tour. The tour will begin in St. Robert, Missouri, on November 21 and conclude in Hempstead, New York, on New Year's Eve.