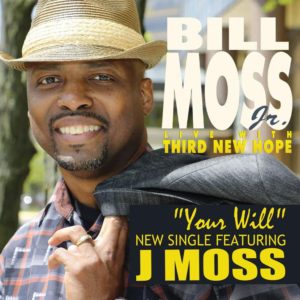 "Your Will"
Bill Moss Jr. feat. J Moss
Salathiel Records (release date: July 21, 2017)
www.billmossmusic.com
By Bob Marovich
Although they debuted on the gospel scene as the Moss Brothers, Bill and James "J" Moss have since pursued separate solo careers. They come together again on "Your Will," an understated, piano-introduced, and jazzy rumination on the personal benefits of living a Godly life.
On the single, from Bill Jr.'s project, Live with Third New Hope: Songbook of Praise & Worship, the brothers notch the gospel heat up with every newly sung verse. The song oozes class and sophistication as the brothers deliver their message with unexpected chord changes, studied melismatic lines, passionate falsetto, and deft support from the background vocalists.
The track was recorded live on December 20, 2015, at Detroit's Third New Hope Baptist Church and hints at a Moss Brothers reunion in the making.