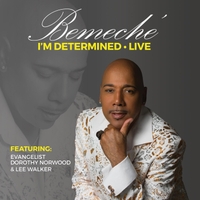 "I'm Determined"
Bemeche'
BGMN Records (release date: April 9, 2018)
www.bemeche.com
By Bob Marovich
This Virginia-based artist teams up with a top-shelf choir and musicians who together sound as if they came straight outta Chicago's Cosmopolitan Church of Prayer on "I'm Determined."
A churchy up-tempo workout with jaunty piano work complements Bemeche's conviction to run on to see what the end will be. He engages the choir in antiphonal singing and sets up a special section where sopranos, altos, and tenors layer their harmonies onto the main melody one at a time. Then the musicians drop out for a straight-up vamp. Although clocking in at nearly four minutes, "I'm Determined" could have gone on even longer without any pushback from the listeners.
The handclapping single comes from Bemeche's debut album, a live outing that features Evangelist Dorothy Norwood, Lee Walker, Elder Betty Jones, and Latoya Murphy Griffin as guest soloists.  Bemeche' is minister of music for Mount Zion 2nd Baptist Church in Greenbay, Virginia; and for First Baptist Church in Victoria, Virginia.
Written by : Bob Marovich
Bob Marovich is a gospel music historian, author, and radio host. Founder of Journal of Gospel Music blog (formally The Black Gospel Blog) and producer of the Gospel Memories Radio Show.