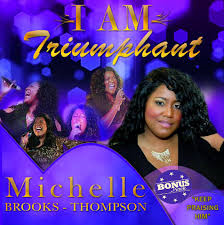 "I Am Triumphant"
Michelle Brooks-Thompson (2017)
www.michellebrooksthompsonmusic.com
By Bob Marovich
On her new single, "I Am Triumphant," gospel songstress Michelle Brooks-Thompson and her background singers console those who feel defeated by letting them know they are already winners.  Their victory is already in the bag, through Christ Jesus.
After the collective establishes the song's premise, the BGVs maintain the mantra while Michelle breaks loose to weave a vocal tapestry of evangelistic passion, which includes a stave-soaring high note just before the song enters its cool down mode.
Speaking of triumphant, Michelle, who was a finalist on Season 3 of NBC's The Voice, recently won the top prize at the 2017 Amateur Night at the Apollo. Congratulations!