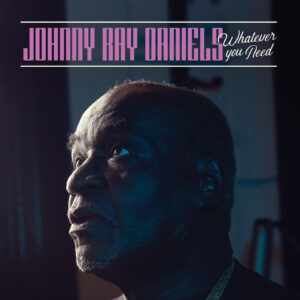 Johnny Ray Daniels
Whatever You Need
Bible & Tire (release date: May 6, 2022)
https://fatpossum.com/collections/bible-tire-recording-co
By Robert M. Marovich
Like the Blind Boys of Alabama's Jimmy Carter and the Savettes' Goldwire McLendon, Johnny Ray Daniels didn't record his first solo album after until after his Social Security checks started arriving.
Regardless, his debut, Whatever You Need, is a fine example of how traditional gospel music still thrives in certain parts of the nation.
The seventy-six-year-old patriarch of the North Carolina-based Daniels / Vines gospel music dynasty digs deep into the hymnbook for a handful of wooden church classics. His son Anthony "Amp" (Dedicated Men of Zion) and granddaughter KeAmber Daniels are the background vocalists. Indeed, the finest moments on the album are the instances of call-and-response between Daniels and the singers, who are as much a part of the project as Daniels himself.
The album opens with the electrifying title track, which chugs along to a propulsive country beat. The same tempo drives Daniels' interpretation of Lucie Campbell's "Something Within Me," during which he lets loose a gravelly tenor shout evocative of Clarence Fountain.
Rick Steff's organ work and a downhome feel from the rhythm section on "I Shall Not Be Moved" evokes Muscle Shoals soul. "Jesus Is Waiting" is Daniels' testimony about surviving a car accident that left his kidneys damaged and then miraculously restored. Other chestnuts include "Glory Glory" and "Lord You've Been Good to Me," simple and effective songs offered as if at a church program or an outdoor revival.
The nine tracks are radio-sized and the album contains plenty of vamps to satisfy hardcore quartet enthusiasts. Producers are Bruce Watson and Will Sexton, the men behind the 2021 Sacred Soul of North Carolina collection that introduced Mr. Daniels and his family members to the music world outside of their section of North Carolina.
Daniels, a member of an early 1960s rock 'n' roll group called the Soul Twisters, had an epiphany. One day, while on a club bandstand looking out at the drinking and cavorting crowd, he realized he was in the wrong place. Like Gatemouth Moore, he walked away from the bandstand and started singing for the Lord. Marrying Dorothy Vines of the Glorifying Vines Singers, Daniels played behind the female quartet as they traveled and recorded. He hasn't looked back and sings his gratitude on the album's churchy concluding track, "Thank You Lord."
"He may not come when you want him," a popular gospel song goes, "but He's right on time." It may have taken decades for Daniels to get solo album treatment, but the earthy Whatever You Need is a true testimony to his earnest singing and his roots in the music that helped millions make it from day to day.
Four of Five Stars
Picks: "Something Within Me," "Whatever You Need"
Written by : Bob Marovich
Bob Marovich is a gospel music historian, author, and radio host. Founder of Journal of Gospel Music blog (formally The Black Gospel Blog) and producer of the Gospel Memories Radio Show.