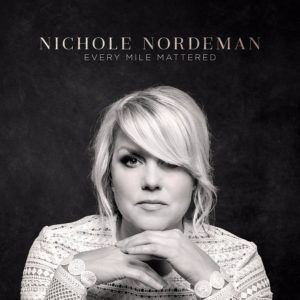 Nichole Nordeman
Every Mile Mattered
Sparrow Records / Capitol CMG Label Group
www.sparrowrecords.com
By Bob Marovich
Christian singer-songwriter Nichole Nordeman has a lot to say in her new album, Every Mile Mattered, and we need to hear it.
In a hauntingly beautiful voice that evokes contemporary folk artists Beth Nielsen Chapman and Alice Peacock, Nordeman offers a theology stripped of fiats and thou shalts. For her, it's simple. Jesus is everywhere, at all times, and in every moment of our lives.  For example, in "You're Here," Nordeman hears God saying that "the only invitation that you need, is the very air that I breathe." She sings in "Lean" that Jesus loves us not in spite of our faults but because of them. Similarly, the lullaby-like chorus of "Hush, Hush" confirms that God is covering us, so we "don't have to have all the answers."
I suspect Nordeman's experience as a parent informs her vision of an all-loving Jesus who puts no asterisk next to "love one another." Indeed, the concluding track, "Slow Down," which Nordeman sings with her daughter Pepper Ingram, can be taken either as a parent's conflicted observation of her child growing up, but it can also be seen as God's own expression of love toward his children: "I am your biggest fan / I hope you know I am."
"Dear Me" is Nichole's letter to her former self, to "the girl I used to be." It's sobering in its honesty and refreshing in its outlook. While the song shares some of the feel-no-fear philosophy of Lee Ann Womack's 2000 country hit, "I Hope You Dance," its optimistic message about living out Jesus's unconditional love despite what we have been taught to believe is the most convincing call to action and statement about love you are likely to hear this year.
But as powerful a statement as "Dear Me" offers, it is eclipsed by "Anywhere We Are." Its contemplation about what matters in life is anchored by imagery of powerful storms that threaten to destroy everything we possess.  Coming out prior to Hurricane Harvey and the devastation it has left in its wake, it is difficult to listen to this emotionally taut song without thinking of the people impacted by this tragedy. Like Richard Smallwood's "Total Praise," and Micah Stampley's cover of "Come to Jesus," "Anywhere We Are" is so moving it might be prudent to pull off to the side of the road if you are listening to it in the car.
The melodies and arrangements are accessible, and Nordeman is at her most potent when simply accompanying herself on piano. Every thought matters on Every Mile Mattered. One of the best albums I've heard this year.
Five of Five Stars
Picks: "Dear Me," "Anywhere We Are."
Written by : Bob Marovich
Bob Marovich is a gospel music historian, author, and radio host. Founder of Journal of Gospel Music blog (formally The Black Gospel Blog) and producer of the Gospel Memories Radio Show.