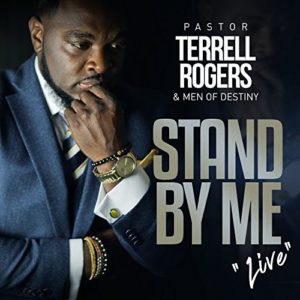 Pastor Terrell Rogers & Men of Destiny
Stand By Me "Live"
4 Winds Records / Malaco Music Group
(release date: March 2, 2018)
www.malaco.com
By Bob Marovich
Listening to Pastor Terrell Rogers' rough-hewn lead vocals meet the smooth harmonies of Men of Destiny is like eating salted caramel: they are delicious together.
The 4 Winds release, Stand By Me "Live," captures the young quartet singing at the Prince of Peace Church in their hometown of Blytheville, Arkansas (the Rogers Family founded the church in 1965).
There's plenty of antiphonal singing between Rogers and the quartet. Rogers, who cut his professional teeth as drummer for his uncle's group, Tim Rogers and the Fellas, is a squalling lead singer in the tradition of the Blind Boys of Alabama's Clarence Fountain. On the other hand, the Men of Destiny take it smooth and easy, reminding this listener of the Hailey Singers but without the '80s funk-synth accompaniment.
Although "Bless Me Jesus" opens the CD with a '60s twist beat, most of the songs are long, languishing selections that give Rogers and the group sufficient space to sing, declare, preach, testify, converse with the live recording audience, and harmonize.
"Can't Thank Him Enough" is old-school in its melody, rhythm, and lyrical gush of gratitude to God for the most fundamental blessings of life, such as "waking me up early this morning" (someone once said the saddest blues would start with, "I didn't wake up this morning"). The mid-tempo "Almighty God," which closes the CD, is another selection steeped in wooden church religion.
The single and title track is not the Charles A. Tindley hymn but it carries the sentiment and offers the same laid back groove and intense lead singing found throughout the project. "Sweet I Know" borrows a bit from the lyrics of the beloved church hymn "He's Sweet I Know," but it is its own song, with the harmonies underscoring the sweetness of Jesus. "Can't Live Without You" gives each singer a chance to solo in the spotlight.
Perhaps the most outstanding aspect of the CD, however, is the audible response of the audience to the singing of the quartet on the Prince of Peace Church altar. Women screaming with delight during portions of the program confirm that gospel quartets still have an avid female fan base that stands by them, a tradition that stretches back to the genre's golden age.
Four of Five Stars
Picks: "Can't Thank Him Enough," "Almighty God."