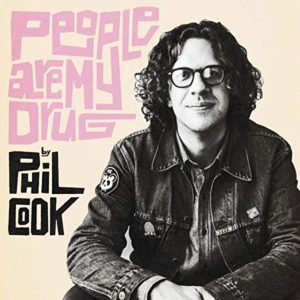 Phil Cook
People Are My Drug
Psychic Hotline / Thirty Tigers
(release date: June 1, 2018)
www.philcookmusic.com
By Bob Marovich
Rootsy gospel vibes abound on Phil Cook's second solo album, People Are My Drug.
A native of from Wisconsin now living in Durham, North Carolina, Cook counts among his inspirations such classic gospel artists as the Staple Singers, the Sensational Nightingales, Margaret Allison, Shirley Caesar, and Brother Joe May. It's evident, too, in the album's sound, its lyrics, and even in the quartet-like vamp on two tracks ("Steampowered Blues" and "Every Mother's Son").
"Tide of Life," which Cook and his ensemble cover, was written by Lloyd Woodard of the Original Five Blind Boys of Mississippi and issued by the quartet on Peacock Records in the early 1960s. "He Gives Us All His Love" is a Randy Newman piece that gives gratitude to God for watching over everyone. The gorgeous "Tupelo Child," written by MC Taylor of Hiss Golden Messenger (Cook was a member of this folk band), is an Americana track garbed in apocalyptic images.
One of the album's most interesting selections is a Cook composition called "Another Mother's Son." It's a protest song that asks everyone to turn their apathy to empathy for the mothers who have lost their children, presumably to violence, and concludes with the ensemble singing a modern-day mantra: "no more silence."
The overall vibe of the CD is of a low-key, late night New Orleans jam session featuring Bob Dylan and the Band. The musicians, including Cook on electric guitar, are tight but they keep the volume low as if not to wake the neighbors. Meanwhile, the talented and soulful background vocalists, collectively reminiscent of the McCrary Sisters, offer bluesy runs and moans as if they walked out of an Archibald Motley painting.
People Are My Drug is a sensitive and sympathetic ode to our shared humanity.
Four of Five Stars
Picks: "Tide of Life," "Another Mother's Son"
Written by : Bob Marovich
Bob Marovich is a gospel music historian, author, and radio host. Founder of Journal of Gospel Music blog (formally The Black Gospel Blog) and producer of the Gospel Memories Radio Show.