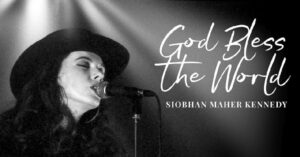 "God Bless the World"
Siobhan Maher Kennedy
(release date: May 6, 2022)
By Robert M. Marovich
While not a gospel or religious song per se, "God Bless the World" is nonetheless a prayer for unity in a world where people have separated from each another on account of race and ethnicity, religion, political affiliation, sex and sexual orientation, economic status—just about every way imaginable.
The tender ballad, and especially the heartwarming way that Ms. Kennedy sings it, remind us that underneath it all, we're sisters and brothers just trying to live life the best way we know how.
"God Bless the World" was written by award-winning songwriters Roger Cook and Johnny Lucas. Cook, in particular, has written songs that are part of pop music's DNA—from "Long Cool Woman in a Black Dress" and "Here Comes That Rainy Day Feeling Again" to "I'd Like to Teach the World to Sing."
Raised in Liverpool, England, and now a resident of Nashville, Siobhan Maher Kennedy has a musical resume that includes membership in the Liverpudlian folk-pop band River City People and one-half of the duo Kindred Spirit with Debbi Peterson of the Bangles. "God Bless the World" sounds as if it were written just for her to sing.
Written by : Bob Marovich
Bob Marovich is a gospel music historian, author, and radio host. Founder of Journal of Gospel Music blog (formally The Black Gospel Blog) and producer of the Gospel Memories Radio Show.