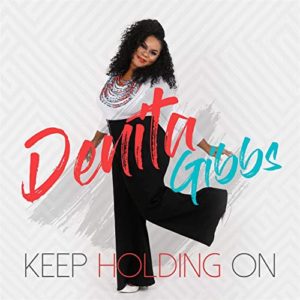 "Keep Holding On"
Denita Gibbs
Intersound / distributed by IndieBlu Music
(release date: October 19, 2018)
www.denitagibbs.com
By Bob Marovich
Denita Gibbs of Birmingham, Alabama, entered the national consciousness in 2013 with her five-star sophomore release, Without You.
She's back with "Keep Holding On," a finger-popping single distinguished by a husky chromatic riff on electric guitar. In a confident, convincing, pop-inflected voice, Gibbs instructs that God will see you through the dark times. Though the single is more than a year old, Gibbs still promotes it in her appearances.
A member of the Pentecostal Assemblies of the World, Inc., a denomination that introduced the gospel music world to Bishop Charles Watkins, among others, Gibbs attends Nashville's Greater Christ Temple Apostolic Church, under the pastoral leadership of Bishop Sherman Merritt.
Written by : Bob Marovich
Bob Marovich is a gospel music historian, author, and radio host. Founder of Journal of Gospel Music blog (formally The Black Gospel Blog) and producer of the Gospel Memories Radio Show.