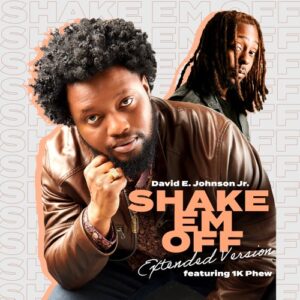 "Shake 'Em Off"
David E. Johnson Jr. feat. 1K Phew
Trucast Music Digital (release date: March 25, 2022)
www.DavidEJohnsonJr.com
By Robert M. Marovich
On "Shake 'Em Off," Memphis native David E. Johnson Jr. summons the percussive go-go sound of Washington, DC,  to bid good riddance to the devil.
Johnson launched his gospel career in October 2021 with the original version of "Shake 'Em Off," co-written with Makeba Riddick-Woods. The extended version features a double-time rap interlude from Christian hip-hop artist Isaac "1K Phew" Gordon. The dynamic refrain is ready-made for full-body congregational participation. Plenty of kinetic energy in this piece.
Written by : Bob Marovich
Bob Marovich is a gospel music historian, author, and radio host. Founder of Journal of Gospel Music blog (formally The Black Gospel Blog) and producer of the Gospel Memories Radio Show.