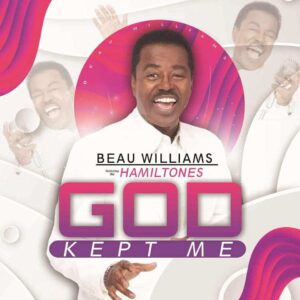 "God Kept Me"
Beau Williams feat. the Hamiltones
From the album Timeless (release date: September 24, 2021)
By Robert M. Marovich
"God Kept Me" by longtime vocalist Beau Williams, is a joyous gospel song about the constancy of the Most High. The rhythm guitar drives a handclapping tempo while popular vocal group the Hamiltones answer Williams' declarations with percussive harmonizing. Lively and enchanting.
And Williams can sure enough sing, his high yodel on the refrain evokes Sam Cooke with the Soul Stirrers.
Gaining exposure on the television show Star Search in the mid-1980s, the Houston-born Williams had an R&B career on Capitol Records ( remember 1983's "Elvina"?) before signing with Light Records and returning to his gospel roots with "Wonderful," which garnered a Dove Award and Grammy and Stellar nominations.