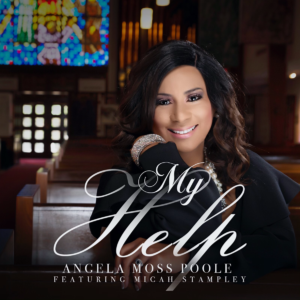 "My Help"
Angela Moss Poole feat. Micah Stampley
141st Lane Music/DarkChild Gospel
www.angelamosspoole.com
By Robert M. Marovich
Singer-songwriter Angela Moss Poole puts one of her favorite Scriptures, Psalm 121, to music, and invites gospel crooner Micah Stampley along for the journey.
The message is simple, the melody is appealing, and the arrangement fits the message. It blends gospel hymnody and contemporary sounds with skill. Angela and Micah duet through the entire selection, building the temperature to sizzling as they go along. They should do more songs together in the future.
A native of Miami, Dr. Angela Moss Poole earned a Bachelor of Science in Accounting and a Ph.D. in Leadership from Florida A&M University. She also earned a Master's degree in Accounting from Florida State University.
Written by : Bob Marovich
Bob Marovich is a gospel music historian, author, and radio host. Founder of Journal of Gospel Music blog (formally The Black Gospel Blog) and producer of the Gospel Memories Radio Show.