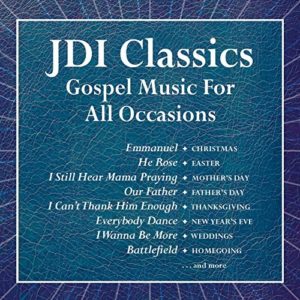 Various Artists
JDI Classics: Gospel Music for All Occasions
JDI Records (release date: April 6, 2018)
By Bob Marovich
JDI Records founder and CEO James Roberson has been doing some spring cleaning.
In the case of The Essential Beverly Crawford, Vol. 2 as well as with this new JDI Classics release, Robertson has been reissuing items from the company's estimable catalog.
JDI Classics: Gospel Music for All Occasions is a clever repackaging conceit and something of a greatest hits collection for the Los Angeles-based label.
Some of the songs are older. For example, Norman Hutchins' "Emmanuel" (the Christmas choice) is a 2009 release, as is Roberson's disco-ish gospel line rave, "Everybody Dance." On the other hand, Brent Jones's "He Rose" (an Easter pick, natch), has been marketed this year as a single, and the former member of T.P. Mobb recorded a live album with the Waco (TX) Community Choir this past February.
Of the set, two tracks in particular stand out. Hutchins' "Battlefield" is a congregational singalong (cited as ideal for a home going, though perhaps in lyric only), and Roberson's lovely and wedding-ready "I Wanna Be More" has plenty of Peabo Bryson polish on it. Beverly Crawford's simmering "Thank You for All You've Done," from the 2014 album of the same title, is another striking piece, and Chester D.T. Baldwin's  "I Still Hear Mama Praying" (for Mother's Day) brings some traditional Sunday morning fare to the collection.
None of the ten songs presented here are so exclusive to their respective holidays or special events that they cannot be enjoyed on their own. So you might not want to hear "Joy to the World" in April, but "Emmanuel" is sufficiently neutral as to be welcome on the CD player in spring.
Even if you have heard these songs before, they are still quality productions with rich choral backdrops.  And they come with programming suggestions.
Three of Five Stars
Picks: "I Wanna Be More," "Battlefield"