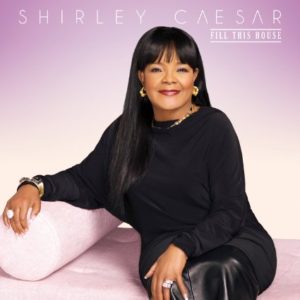 Shirley Caesar
Fill This House
Entertainment One Music (release date: June 3, 2016)
www.shirleycaesar.com
By Bob Marovich
From its days as a seedling in the American soil, black sacred music has been a balm to soothe the sin-sick soul as well as the soul beaten down by life's humiliations and insults.
Even in a time when praise and worship reigns supreme in gospel music, there is still a need, especially given the condition of the black man and woman in modern America, for inspiring songs of hope and encouragement.
Pastor Shirley Caesar has been lifting such songs for more than sixty years. Her latest album, Fill This House, is but the latest example. The CD is rife with comforting messages of endurance, hope, and belief wrapped in rootsy music that seamlessly blends traditional church spirit with contemporary gospel sounds.
The listener taps into the traditional-contemporary blend from the outset with "It's Alright, It's OK," featuring R&B sensation Anthony Hamilton on one of the verses. Another example is the hymn, "Sow Righteous Seeds," first sung flatfooted, then contemporized by producer Michael Mathis by infusing it with island beats.
Some songs on the album are just straight up traditional, no chaser. Caesar renders "He Won't Fail You" in her trademark fashion of tossing personal testimony into the mix. Here, she reminds the audience that God did not fail her mother or her, and won't fail you, either. Bishop Hezekiah Walker cameos on the uptempo and churchy "Survive This."
Without question, the album's masterpiece is "Mother Emanuel," Caesar's moving tribute to the victims of the 2015 mass shooting at Emanuel AME in Charleston, South Carolina. The song, written by Reba and Donnie McGuire and Chip Davis, and produced by Sanchez Harley, reminds us that a tragedy cannot trump humanity's power of resilience and forgiveness. It is easily one of the best songs of the year.
Caesar concludes with "Prayer Works," on which she exclaims her belief that "Live or die, sink or swim, come hell or high water, for better or worse," prayer works, even in some of the toughest spots, as when facing hospice.  To quote a gospel song by another artist, it isn't over until God says it's over.
Although already written in stone, or rather recently honored with a star on Hollywood's Walk of Fame, Pastor Shirley Caesar's uncontested position as the reigning Queen of Gospel is confirmed with Fill This House.
Five of Five Stars
Picks: "It's Alright, It's OK," "Mother Emanuel," "Survive This."
Check out JGM's recent interview with Pastor Caesar to learn more about Fill This House.