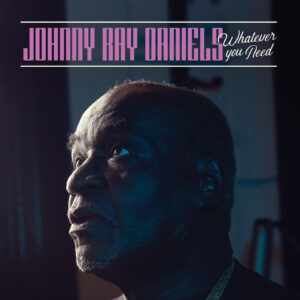 Robert M. Marovich
Ray Kroc was 52 when he opened his first McDonald's restaurant in 1955. Col. Harland Sanders was in his 60s when his "Finger Lickin' Good" Kentucky Fried Chicken became a national sensation. Duncan Hines didn't license his name for cake mixes until age 73.
And Johnny Ray Daniels didn't release his first solo album until age 76.
It's never too late for your season.
Although Whatever You Need (Bible and Tire, 2022) is Johnny Ray Daniels' debut solo album, the North Carolinian has been making music for seven decades.
Born in Greenville, North Carolina, Daniels sang with his brother, the late Willie "Buck" Daniels, in a gospel quartet called Little Willie & the Fantastic Spiritualaires. He grew up in a Holiness church but in 1962, when he married Dorothy Vines, he shifted allegiances to her church, Union Grove Free Will Baptist Church.
In the 1960s, his feet still planted firmly in the church, Daniels sang and played electric guitar with a group called the Soul Twisters. The five-man combo appeared at colleges, clubs, "wherever we could get a booking," Daniels said. "When the funeral home people would have their convention, they would hire us." The group also opened for national artists like Tony Orlando and Dawn and the Tams.
The Soul Twisters recorded their only single around 1967 or 1968, a funky number written by Daniels called "Doing Our Dance." Engineering the recording was Roy Mathew of Greenville's Pitt Sound Studios, where the O'kaysions recorded their 1968 national hit, "Girl Watcher." Romat Records released "Doing Our Dance" and wanted to promote the group but things didn't turn out quite as expected. "We were young," Daniels rued, "and didn't know what was going on."
As a guitarist, Daniels was an original. He never tried to imitate anyone. "I play music by ear," he explained. "I have my own sound. When I play, I want somebody to say, 'that's Johnny Ray right there.'"
His originality caught the ear of the mayor of White Plains, New York. When the Soul Twisters appeared in the Westchester County town for a gig, the mayor approached Daniels with a proposition: relocate his family and make music in White Plains permanently. He sweetened the deal by offering Daniels free accommodations. Daniels refused. "I couldn't leave my band."
Daniels did leave the Soul Twisters, but for a different reason. One evening, during a performance, Daniels recalled seeing an image of a face before him saying, "You are in the wrong place." He knew what was happening. The clean, friendly way he lived and the sometimes course existence of a club musician were not in harmony. God was telling him to stop pretending, but the band had several upcoming bookings to fulfill, and Daniels delayed his departure.
At the final gig, in a nightclub in Wilson, North Carolina, a man approached Daniels. "He said 'I like your group – I want to hire you and I'll give you $1,500 a week for two bookings,'" Daniels recalled. "'I'll buy you a brand new customized van.' I saw the devil in it. I said, 'No I cannot do it.' The more the man persisted, the more Daniels held steady. "I knew what I had promised the Lord."
From then on, Daniels contributed his musical talents to a gospel group that included his wife: the Glorifying Vines Sisters of Farmville, North Carolina.
"My wife's sister was singing in the church choir," Daniels said, "and there were other sisters and cousins who sang. They sang in churches, at conventions, and someone encouraged them to call themselves the Vines Sisters." Fans encouraged them to make a record. "By me working at my own carpet business, I told them I'd pay for it. It started off right from there."
Thanks to Daniels' financial generosity, the Glorifying Vines Sisters recorded a handful of singles in the mid-1970s for Bill Johnson's Virginia-based Pinewood Records, and for Sound Hut in Kinston, North Carolina. The Vines' album for Church Door Records, 1984's There's a Blessing Over the Hill, produced the fan favorite, "We'll Work 'til Jesus Comes." Daniels played guitar and sang on the album, and handled lead vocals for "God's Got It." But in general, Daniels was displeased with the Church Door deal and Blessing was their final record for the company.
In the late 1980s and early 1990s, the Vines Sisters cut several albums for Shurfine Records and appeared on programs in Texas, Louisiana, and Tennessee, among other states. "We went to a lot of places," Daniels said. "We worked with the Mighty Clouds of Joy, the Nightingales, Tommy Ellison, the Swanee Quintet. We were on anniversary programs for Rev. F. C. Barnes ["Rough Side of the Mountain"] and the Blind Boys of Mississippi." In the gospel quartet community, the Vines were well known and respected.
The Vines came to the attention of Tim Duffy of the Music Maker Foundation through Daniels' brother-in-law, the blues artist and guitar manufacturer Freeman Vines. Vines told Duffy about his family's musical proclivities and Duffy agreed to have a listen. Liking what he heard, Duffy and Bruce Watson of Fat Possum Records / Big Legal Mess / Bible and Tire collaborated to release Sacred Soul of North Carolina. The 2021 various artists project spotlights Daniels, the Glorifying Vines Sisters, and Little Willie & the Fantastic Spiritualaires, among others, and brought the family to the attention of a wider audience. Watson has also released two CDs on the Dedicated Men of Zion, a quartet featuring Daniels' son, Anthony "Amp."
Whatever You Need was Duffy's idea. Although Daniels had written for and recorded with the Vines Sisters for years, and soloed on Sacred Soul, he had never released his own record. Accepting the challenge, Daniels invited Amp to help him pick out the playlist, mostly traditional gospel favorites. Amp and his daughter KeAmber (of Faith and Harmony, a group also found on Sacred Soul) sang background at the recording session, produced by Bruce Watson and Will Sexton at Watson's Delta-Sonic Sound in Memphis. The album will be released May 6, 2022.
Asked if he would do another solo album, Johnny Ray Daniels didn't pause. "Yes sir. It makes me feel good to be recognized. I thank God for letting me lift Him up. I want to be that soldier working for God. I like to bless people."
Written by : Bob Marovich
Bob Marovich is a gospel music historian, author, and radio host. Founder of Journal of Gospel Music blog (formally The Black Gospel Blog) and producer of the Gospel Memories Radio Show.