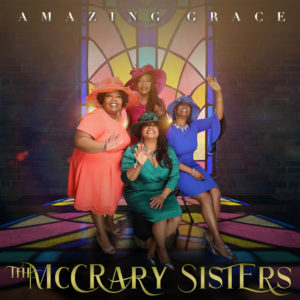 "Amazing Grace"
The McCrary Sisters
McCrary Sisters Productions (release date: April 30, 2021)
www.mccrarysisters.com
By Robert M. Marovich
Only the McCrary Sisters, who could sing the phone book (remember those?) into the gospel charts, could pull off "Amazing Grace" sung to the tune of "House of the Rising Sun."
Except, that is, for the Blind Boys of Alabama, who did it originally. Still, the McCrary Sisters offer an equally intriguing, and arguably more evocative, take on this mix of regret and redemption.
Daughters of the late Reverend Sam McCrary of the Fairfield Four, the McCrary Sisters—Ann, Deborah, Regina, and Alfreda—share more than this version of the John Newton hymn with the Blind Boys. Like the Alabama quartet, they have successfully navigated their way to the on-ramp of American popular music. They have worked with a wide array of top talent and even appeared on such storied stages as the Grand Ole Opry. This single will help them continue to attract a broad listenership.
Produced by the McCrary Sisters with Phil Hughley, whose lead guitar work gives the hymn its hoodoo.