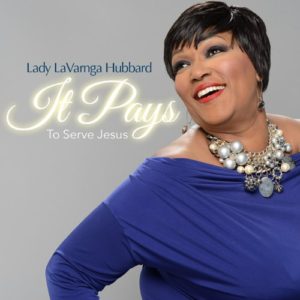 "It Pays to Serve Jesus"
Lady LaVarnga Hubbard
Utopia Music Group (2017)
Available from digital media stores
By Bob Marovich
No matter how many vocalists travel down the P&W path, you can count on Lady LaVarnga Hubbard, the Duchess of Gospel, to keep delivering church rousers the old-school way.
"It Pays to Serve Jesus" is the latest single (and the third) pulled from Hubbard's album, Better Is Coming, released on Bishop Larry Trotter's Utopia Music Group.
True to form, the Duchess glides along the backbeat, inviting listeners to sidestep the static and remember that following Christ is the route to solving life's challenges, reaping its rewards, and gaining everlasting life. The undeniable glee in her voice, the bubbly melody, the exuberant background vocalists, and the joyful organ give aural affirmation that payday is sure to come. It ties in well with the album's thematic assertion that better is on its way.
Lady LaVarnga Hubbard is an alumna of Chicago Mass Choir and Ricky Dillard & New G.  Read JGM's 2015 interview with her here.
Written by : Bob Marovich
Bob Marovich is a gospel music historian, author, and radio host. Founder of Journal of Gospel Music blog (formally The Black Gospel Blog) and producer of the Gospel Memories Radio Show.