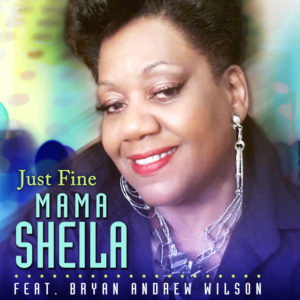 "Just Fine"
Mama Sheila feat. Bryan Andrew Wilson
Bryan's Songs Records (2017)
By Bob Marovich
To a traditional gospel melody, a kick drum backbeat, and featuring preacher-style prompting from her son Bryan Andrew Wilson, Sheila Davis Wilson, as "Mama Sheila," strings together familiar church sayings as her testimony about getting through a life with its ups and downs, including cancer "having its way with me."
A congregation of background vocalists serve as the response to her call about the goodness of King Jesus smoothing the rough ways.
Sheila grew up in a gospel singing family, so traditional gospel is in her DNA.  "Just Fine" is a church rouser in a style that never grows old.
Written by : Bob Marovich
Bob Marovich is a gospel music historian, author, and radio host. Founder of Journal of Gospel Music blog (formally The Black Gospel Blog) and producer of the Gospel Memories Radio Show.