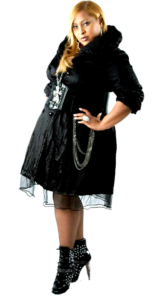 "God's Got My Back"
TaMyya J
MM Music Group (release date: September 2016)
www.tamyyaj.com
Set to an urban AC arrangement, "God's Got My Back," the thought-provoking single from radio host and gospel singer TaMyya J of New Jersey, is about flipping one's thinking from negative to positive.
It's a call to develop the confidence to ignore that needling inner voice that tries to diminish you. TaMyya once thought "I'm not strong enough, wise enough, smart enough, pretty enough, thin enough."  Now, with God in her life, she sings "I'm fine just by being me."
"God's Got My Back" falls lyrically into the female empowerment category containing Christina Aguilera's "Beautiful" and India.Arie's "I Am Not My Hair."
At age fourteen, TaMyya J and four others formed the gospel group Praise, entered the McDonald's Gospelfest, and took first place in the Youth Division. That set TaMyya on her musical journey, where she has been a soprano background vocalist for Mary Mary, released her own recordings, sung on other artist's singles, and performed in the stage play Who Do You Love alongside Mary Mary's Erica Campbell.
Written by : Bob Marovich
Bob Marovich is a gospel music historian, author, and radio host. Founder of Journal of Gospel Music blog (formally The Black Gospel Blog) and producer of the Gospel Memories Radio Show.